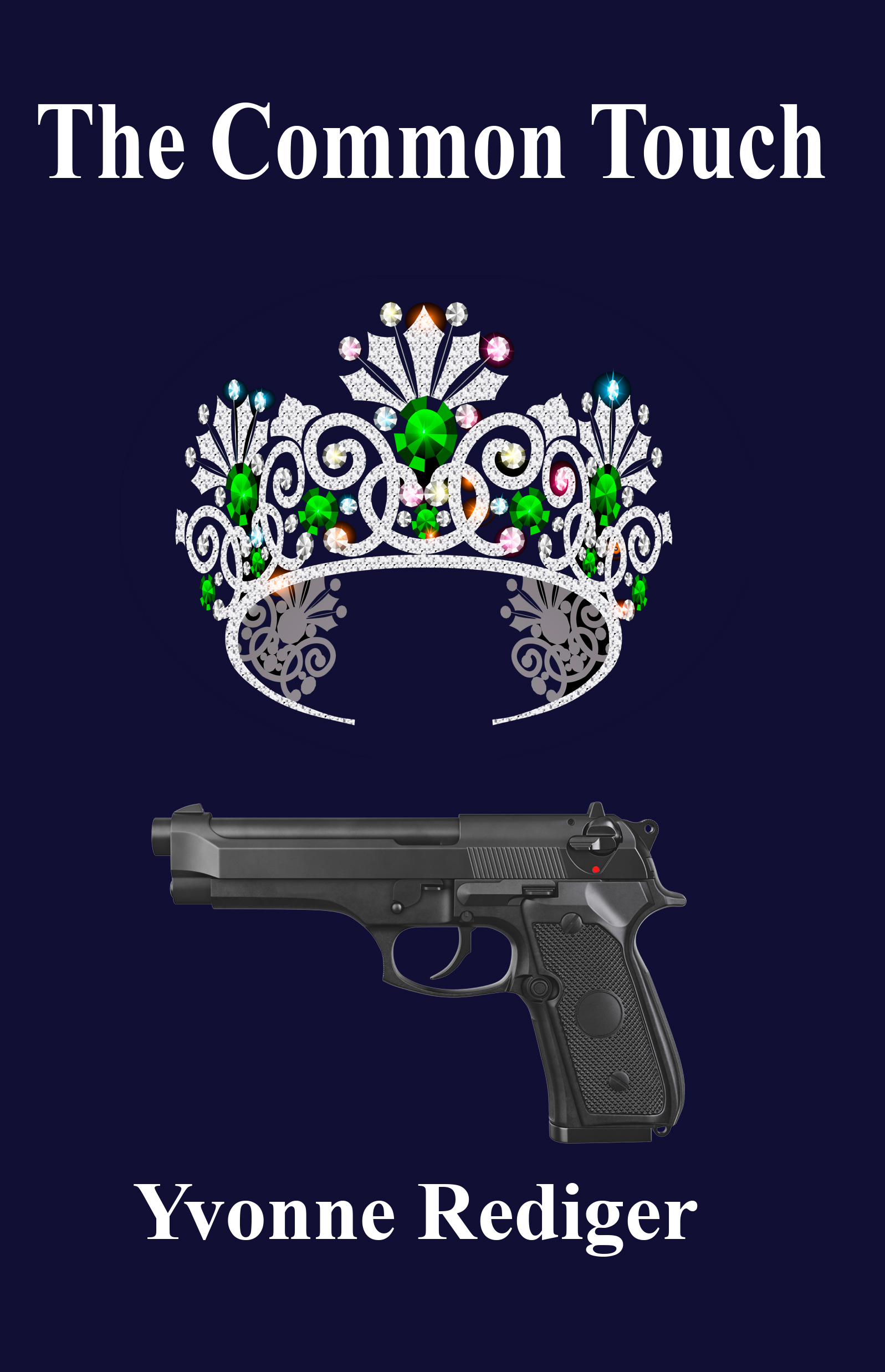 BY: YVONNE REDIGER
Major Zara Dare, air force brat from CFB Moose Jaw, home of 15 Wing. Zara followed in her father's footsteps by joining the air force. Unfortunately, she did not attain his pilot status. Her talents lie elsewhere. She always felt the need to make her dad proud, but knew she fell short. Now she has a tough new assignment. While His Royal Highness is attending the international Connaught Ranges annual shooting event in Ottawa, Zara is tasked to be part of his security detail. She must ensure the safety of the outspoken and unpredictable Royal. It would all be fine if she could keep their relationship on a professional footing, but minutes after they meet at the Governor General's gala, the prince begins changing things to suit him.
His Royal Highness, Prince James Argyle Sandhurst Fleming is third in line to the Riocht Oilean throne. James would be happier if there were several dozen more people between him and that particular mantle. Maybe why he continually shakes off his security to lose himself in the crowd. He too, had a successful military career, until the media's fascination made life impossible to continue without placing others at risk. While he takes his royal duties seriously, he is bitter about giving up his chosen career. He's not sure the life of a prince is what he wants. Then he meets Zara.
CHAPTER 1
Major Zara Dare waited in the Long Gallery at Rideau Hall telling herself to just suck it up. It's only a reception. An hour or so, and she'd be out of here. Besides, it wasn't every day one met a prince.
Night was falling as the last hint of sunset disappeared beyond the large uncovered windows. In daylight, the view showcased the Rideau Canal and the Ottawa skyline beyond. Now, the last slivers of peach and pale pink gradually faded to dissolve into the fast-moving waters.
The site made Zara shift restlessly in her floor-length skirt and matching jacket. The material of her formal dress uniform or DEUs, was blue. Though such a dark blue, as to the casual eye, appeared black. To complete the ensemble, she wore a silky white blouse and topped it all with a black bowtie. A proper one, not the clip-on sort, it was a gift from her oldest brother, Adam. His advice was never far from her mind, much like her father's. But then, the military was the world she'd been born into.
A corporal stood to her right. He vibrated with a mixture of excitement and worry and made her smile a little. His enthusiasm added to the palatable feel of all those queued up.
"Do I look okay, Major?" Mufisso whispered.
She turned toward him and ran a practiced eye over the corporal's deep green army dress kit. His white leather belt with gold buckle, and matching buttons shone brightly as did his black boots. His anxious swarthy face made him look about twelve-years-old. "You look fine, Corporal," Zara assured him with a nod. "Think of this as any other formal mess function. Except no one will pull any pranks tonight."
"Thank you, Ma'am," the corporal said with relief and gratitude.
Zara looked the opposite way down the row, of which she and Mufisso were nearly the last. The receiving line boasted government ministers, foreign dignitaries, A-list celebrities, a couple well known authors, and one newly minted Order of Canada recipient.
A few military types like Zara and the corporal were in attendance, too, but those other people were a higher rank. Much higher.
The waiting guests glittered and shone. So, too, did the stately entrance to the Governor General's residence. The polished oak gleamed and the vivid red carpet was at the ready, in honour of his Royal Highness Prince James, of Oílean Ríocht, or island kingdom in English. His home was a chain of six islands west of Scotland and east of Norway. The Oíleanach, as they called themselves, were a hardy and rough seafaring folk descended from Norsemen and Highlanders and a splash of Spanish to make things interesting.
"Major, do you think the prince will be going to the icebreaker at the mess with his team?" the corporal asked as he tweaked one tunic cuff.
"I doubt it," Zara said. "There are too many people here who will want a chunk of his time." The prince was on his first Canadian visit and playing a dual role as ambassador and visiting dignitary for his country. The trip was timed to coincide with his country's team in attendance at the annual marksman event in Ottawa, The Canadian Armed Forces Small Arms Concentration better known as CAFSAC.
He was in Ottawa to shore up support from a Commonwealth cousin. Determine where the Canadian government stood with regard to trade, and more importantly industrial consultants.
Oílean Ríocht's own government had a decision to make which would affect its future. That was to stay with Britain, and the Commonwealth, or go with the European Union. Zara was party to the prince's official and unofficial schedules.
 "Are you attending the icebreaker?" Zara glanced up at the bean-pole young man.
"Yes Ma'am," he answered promptly. "Tomorrow is a practice day for the foreign competitors, so a late night won't affect me much."
"As long as you are in your bunk early the following night, we want a repeat of last year's success."
"Yes Ma'am," Mufisso gave her a wide grin.
Zara looked left again, down the long line to the Governor General. The white-haired Madame Bellevue chatted with Colonel Austin McGinnty, Zara's boss.
McGinnty turned and caught Zara's eye. He opened his own wider, mockingly. Zara dropped hers so she wouldn't laugh. McGinnty had a wicked sense of humour.
"Suck it up Major, what did you think would happen after you won the Queen's Medal for top pistol shot, two years in a row?" McGinnty asked her when he'd briefed her eight weeks ago. He also informed her, the formal request she'd made for an intelligence post was under consideration.
"He's not a bad fellow and this will be an excellent opportunity for me to see what you can do."
And there was the carrot.
Hobnob for a couple of days, keeping a watchful eye on the royal, while she oversaw administration of CAFSAC, and she might move up the career ladder.
No, the prince wasn't a bad guy. His Highness was cheerful and easy to talk to, or so her research said. The man might be charming, but he was also very late.

James glanced at his watch and grimaced.
"I know what you're thinking, it was the damn press," said Wilkes, his friend and a member of his personal security team, nodded.
The prince lifted one dark eyebrow. "Yes, dodging reporters is becoming a full-time job and I hate to be late. It makes me look arrogant."
"No one thinks you're arrogant," Corning, the other member of his team, who had served in the military alongside Wilkes, said dryly as she straightened her jacket. All three wore the Oílean Ríocht deep blue house uniform, albeit James' uniform boasted more bling. "Quite the opposite, actually."
He missed his role in the military, he'd worked hard to attain his position, but circumstances at home triggered an unhealthy attention by the media and forced him to leave. Not to mention pressure from his sister. She didn't understand his commitment beyond the obligatory term that was required, but then few outside the military did.
"I need help. I'm with child and cannot gallivant all over Europe and North America, but I can send you," his queen told him. Mary's pregnancies were never easy and without question he would shoulder what responsibilities he could.
"I could take a leave of absence." But knew as the words left his mouth, a leave wasn't the solution. He had to return home for good.
"I'm sorry, Jamie, I really am, but I need you to take up your duties. Frederick took on what he could, but now with Brexit and the discovery of new energy deposits here inside our borders, well, the world has discovered our tiny kingdom exists. They used to think our country was wretched and dull, not anymore. Of course, our foreign policy needs revamping and my husband can only do so much. I need help to figure out what to do with our new resources and how the revenue can benefit our people." She'd leaned over as far as she could and squeezed his hand. "I'm sorry media attention is wrecking your career, but you do have a whole new one waiting for you here. You could do a lot of good."
And he could and would. James clasped his sister the Queen's, hand. "You are right, of course." That won him her dazzling smile.
"You might think about finding a nice girl and settling down, too."
"Mary, please. I'll know the right woman for me when I meet her."
"I could arrange something, I can do that you know."
He'd merely laughed but there was an edge to her tone. She wanted her brother home and his family needed him.
James pushed his last conversation before the trip to Canada out of his mind as the Rolls-Royce slowed to pass through the gate with the security check point.

Zara lifted her head at the sound of vehicles approaching. All heads turned as one toward the wide-open oak portal, and the mob of media beyond.
A Rolls-Royce flanked with pair of flags with a black sword on a slate-blue background fluttered over the fenders in the evening breeze. The vehicle rolled to a stop by the open doorway, at the edge of the red carpet. This car was closely followed by the motorcade escorting the Royal.
Prince James, or 'Sandhurst' as security has tagged him, was not the direct heir to the throne. His sister, the Queen, would give birth to her third child in a few months. The new baby would push him farther down, to fourth, in the line of succession. But he was still considered a very desirable catch now that his higher profile distant cousins were off the market. The media were all agog over his visit and treated him more like a rock star, than a visiting dignitary.
RCMP converged on the vehicles and lined the route to the front door. The officers made a formidable wall with their dark suits in the gathering dusk. They separated the passengers disembarking, and any threat which might be lurking. Which included the media. They could be far too pushy in their enthusiasm to get a quote or a photo. Most knew the prince held a strong dislike for the fifth estate.
On the grounds of the official residence of the Governor General, threats should be non-existent. But who knew? Even in Canada, terrorism had touched the people. Zara understood, maybe more than most. As Adam had always said, it paid to be vigilant. She gently pushed thoughts of her elder brother aside as the car door opened.
And there he was, emerging from the silver cloud Rolls-Royce. He smiled sincerely at his host as she stepped up to greet him. The prince was broad-shouldered, dark-haired, and tall. Well over six feet. He leaned down to speak to her Excellency. Gracefully he took the woman's offered hand as they exchanged pleasantries.
Zara couldn't help but be impressed. He looked every inch the prince.
She wasn't close enough to hear the words exchanged. However, it appeared the new arrival apologized for being later than expected. Madame Bellevue returned a brilliant smile as her Excellency waved away his concerns.
The pair turned toward the press and paused for the cameras. Even from this distance, Zara could see his Highness flex his jaw as he faced the media. So, it was true, his distaste for reporters was real.
After a wave and a nod, his Highness and her Excellency turned back to the residence. Accompanied by the British High Commissioner, and finally Sandhurst's personal security trailing behind, the party ascended the steps.
Media was not allowed to attend the reception, the banquet, or the subsequent ball. This became evident by the implacable response of one black-suited female officer as she blocked a cameraman from following the retinue. The corralled paparazzo audibly grumbled from behind the plush rope barricade where the officer directed him.
A mild scuffle broke out and Zara tensed as one videographer tried to break through and follow the British and Oílean Ríocht delegations. A large Sikh RCMP officer, in his navy suit and black turban, prevented the aggressive man from gaining access. He placed one large hand on the reporter's chest and with the other, waggled his index finger in the cameraman's face.
This caused a smattering of laughter from the onlookers. The reporter compressed his lips in frustration, but he backed down. The Governor General and her guests continued forward into the vestibule, taking their places.
Moments later, her Excellency's aide-de-camp stepped stiffly forward. He used some magical power to silence the masses and gathered everyone's attention. "His Royal Highness, Prince James Sandhurst Jarl of Oílean Ríocht," he formally announced, then bowed.
Ponderously, the heavy doors closed. Zara relaxed and turned her attention back to the regal display. The group walked along the red carpet and began shaking hands with the waiting queue. It was smiles all around, with only the official photographers capturing the moment.
Thankfully, things were moving at a brisker rate now. Zara was sure his Highness would pass by her with nothing more than a cursory nod. Still, it was something to be introduced. He would also know who she was before he arrived tomorrow at the Ranges.
Her plan once all the falderal was over, was to dash out and head home to change, and then grab a cab to the mixed ranks mess hall and meet up with her team.
Zara doubted very much she'd be missed here with all the brass present. Besides, the icebreaker would be way more fun than this hobnobbing, even if the GG had pulled out all the stops for the gala. As the prince and his party moved closer, she understood why.
His smile and light conversation put people at ease. And those eyes, dark and soulful one minute, sparkling with humour the next. He made the subject of his attention, whether male or female, the centre of his focus for a brief time. Prince James left more than one female blushing and stammering, that was certain.
He glanced her way and for a fraction of a second, their eyes met. Zara felt the magnitude of his personality, and involuntarily her lips parted. Then he looked away to the next person introduced to him.
Zara blinked. Wow.
Then she straightened her spine. He was only a guy, she reminded herself.
Prince James spoke to the author next to her and then it was her turn to greet him.
The Governor General, her aide-de-camp, and his Royal Highness stood before her.
"Hello." His smooth baritone gathered her attention immediately.
She looked up to meet those amazing deep brown eyes. He was taller than she thought. Must be the Viking blood.
"Your Highness, may I present Major Zara Dare," the aide-de-camp intoned. "Major Dare, his Royal Highness, Prince James."
"Your Highness," Zara said. She'd practiced this bit, she knew she wasn't to speak first, but he'd said hello already. The prince grasped her smaller hand in his. He held it firmly, rather than shook it, and gave her a smile that made her blink.
Completely distracted by his touch, she moved automatically. Feet together, left hand at her side, she bowed. One did not curtsy in uniform.
The Governor General smiled with approval and gestured with one hand at Zara. "Our Major Dare is a two-time winner of CAFSAC, pistol class, and of course a recipient of the Queen's Medal."
"A distinct pleasure to meet you, Major Dare," he intoned.
"It is a pleasure for me as well, Your Highness." Zara gave him a sincere smile and was relieved not to feel tongue-tied.
The rough texture of the prince's hand surprised Zara. She expected smooth and soft. But she shouldn't have. Sandhurst served in Britain's RAF, as Oílean Ríocht was too small a country to field a military. They, like the Gurkha, and other Commonwealth countries, made up ten percent of the British military. And from a couple of reports she'd read, she knew his captain's rank was hard earned.
Though, it was his eyes which gave her pause. So dark they appeared black, helped no doubt by the thick black lashes skirting them. He looked directly at her and appeared to like what he saw.
Sandhurst's smile displayed a dimple on the left side of his tanned face. This, combined with his tall, fit frame, well, Prince James was a devastating package. Zara could now understand why there were so many women who fell hard under his spell. No small wonder the media was in love with him.
"I've heard much about you from Wilkes and Corning."
Zara's smile deepened. "They were my toughest competition."
"Generous of you to say so," he said as his eyes crinkled at the corners. Even though he still held her hand as they spoke, it in no way felt awkward. The contact felt right.
"Major Dare will not be competing this year. She is your host at the Ranges," the GG interjected.
"Yes, so I was told. I look forward to spending time with you," he said, and his smile broadened. His words were weighted with a deeper meaning.
"And I as well," Zara said, ignoring the slight flutter invading her insides.
Madame Bellevue stepped to her left and perforce, the prince was required to release Zara's hand and move on to Corporal Mufisso.
She knew it was the intelligence, touched with mischief in the man's eyes which attracted her. Zara suppressed the sudden impulse to say something further to him. It wouldn't do to hold his attention and keep the conversation going, holding up the line.
Besides, Zara was required to shake hands with the British High Commissioner, Sandhurst's host while in Ottawa.
As she made small talk with the older man, she couldn't help but glance down the line at the prince. He possessed magnetism and Zara definitely felt chemistry between them, but she forcefully dismissed it. It didn't matter what she was feeling. Even though it was a remote chance, getting tangled up with a visiting dignitary, especially one this high profile, would put her career in jeopardy. She would allow nothing to threaten her carefully planned goals, for the brother she'd lost.
The receiving line broke up and the crowd of dignitaries and guests mingled. They commented on their impressions of the royal guest as they migrated from the Long Gallery. The crowd followed their host to the Tent Room, where the reception was to be held.
Zara moved along slowly with the masses to join the balance of guests who waited in the two-story high room. She could make out snippets of conversation between the GG and the prince as they strolled ahead.
"The reception area was Lord Monck's design from the 1870's." Madame Bellevue told him. "The room's angled upper ceiling and striped red-and-white walls are an imitation of the original tent structure. During the house's renovation, a canvas structure resided on the property to serve the same function. The owner liked it so much, the pattern was repeated in the house's design."
Sandhurst appeared to listen attentively but Zara wondered if any of the information the older woman imparted was particularly interesting to him.
Away from his presence, Zara felt a touch foolish at her initial reaction to him. Then Sandhurst turned his dark head to look backed at her and winked.
Now what did that mean?
"He's very good at the people thing." McGinnty popped up at her elbow.
Did her boss see the wink?
"He is that," Zara agreed as she schooled her features. They followed the press of people into the bright room.
White marble floors with darker inlay, stretched before them. Fireplaces with matching white marble mantles flanked the room. Gold and white fixtures and antique furniture lined the walls. Massive floor to ceiling mirrors hung on the farthest wall, at the opposite end of the room and reflected the glittering crowd. Located in front of the mirrors framed in white and gold trim, the bar was set up.
"I'll get us a drink," McGinnty said and made a beeline to the open bar. By the time Zara arrived at the same destination, the colonel turned to offer her a tumbler of whisky, neat.
"Thank you, sir," Zara said and eased back from the crowd. They took up positions outside of the press of the moving throng. Holding up the wall, was the popular term for this maneuver.
"Sir, Ma'am," Corporal Mufisso addressed them as he joined them at their post. "How long do you think we have to stay?"
"Oh, give it twenty minutes anyway. Then you can bug out, too." McGinnty glanced at his watch.
"You aren't staying for the festivities, Colonel?" Zara asked and then took a sip of her excellent whisky.
"I managed to get myself uninvited from the banquet. The Chief of Defense Staff is in attendance, he's more than enough. Also, there are too many details still to finalize for the competition, you know." He saluted her with his own tumbler of amber liquid, eyes amused.
"Really, sir," Zara said dryly. She could get away with her tone. The colonel knew full well it was Zara and three other representatives from his staff who'd organized the event. She raised a reproving eyebrow at the older man and he chuckled.
"I'll give you a lift to the mess," he offered in concession.
"Thank you, Colonel, but not necessary," Zara said as she, let her eyes drift over the sparkling people.
Uniformed servers were offering tall flutes of champagne to the guests. Early in Zara's career, Adam had told her it was better to get one glass of whisky and sip it. As long as she held a glass, no one bothered to ask her if she needed a refill. "In this arena, keep your wits about you," Adam had advised.
"Hey, isn't that Ivy Blackwood?" the corporal asked.
"Who is she?" McGinnty asked, turning to look in the direction Mufisso gestured.
"The best urban fantasy author I've ever read," breathed Mufisso. "She's talking with Miles Bujold, from the show."
"What show?" Zara asked because she knew he was dying to talk about it.
"The Shape, the paranormal series based on Vancouver Island," the young man explained. "My cousin Austin Eckert is part of the cast, too."
"Ah," Zara said and suppressed a smile.
"Well, Austin is mostly an extra, but he did have one speaking part in one episode."
"Make your way over there to chat, if you like," the colonel told him. "But if you plan to ask for autographs, please be subtle about it. This isn't the best time or place."
"Yes, sir."
"And that applies for selfies, too, Corporal," Zara reminded the young man.
"Yes, Major." And Mufisso slid away.
Zara knew of the author, but she wasn't who Zara was interested in.
Her eyes automatically searched out his Royal Highness. There he was, chatting and smiling, with an untouched glass of something in his hand. From the expressions of those surrounding him, it was apparent the man was good with people. It also appeared the prince drew a crowd like the proverbial moth to a flame.
Two of his security detail followed at his elbow. A man and a woman–Wilkes and Corning–both were from the British RAF with the rank of captain. She wondered if they too, were going to leave the service to stay with their countryman.
The male was a foot taller than his teammate with wavy brown hair, blue eyes, and a ready smile. Corning was shorter, with ginger-red hair, and light-brown eyes. She also sported a healthy coating of freckles across her nose and cheek bones.
"It appears Wilkes and Corning are performing double duty as part of the prince's security detail," Zara said before taking another shallow sip of her Glen Fiddich.
"An economical use of personnel that." The colonel nodded. Then McGinnty groaned faintly.
"What is it, sir?"
"Here comes the CDS."
The Chief of the Defense Staff sent the colonel a "come here" gesture. McGinnty straightened his posture and stepped forward to speak to his boss.
The colonel's shorter, bullet shaped form sharply contrasted with the tall black man. His regal baring made the crowd part to allow him through as he met McGinnty half-way across the distance.
Mufisso returned to his spot at Zara's elbow and looked exceedingly pleased.
"You got their autographs?"
"Yes, I did." He hid a smile behind his glass as he patted his left trouser pocket.
From the corner of her eye, Zara noted a uniformed server skirt around the CDS and McGinnty. She turned toward him as the man came to a stop in front of her.
"Ma'am," the server said as he offered her a note on a silver tray.
"Whoa," Mufisso said. "What's up?"
"I have no idea." Zara took the envelope. "Thank you," she nodded to the server and he disappeared into the crowd.
The message displayed the embossed crest of the Governor General–a golden lion rampant on a field of deep blue.
"Hold this please." She gave the corporal her drink.
Zara slipped a finger into the flap and broke the seal. She extracted the heavy cream paper and read the short sentences. Returned the note to the envelope and tucked it into her uniform jacket pocket. Her lips compressed with annoyance.
Mufisso carefully handed her back the whisky glass, but said nothing. She knew he was dying to ask, and maybe she needed to vent a bit.
"As the Colonel is ducking out, I will be taking his seat at the banquet. I am requested and required to remain for the ball." She tried to keep her tone neutral and succeeded, mostly.
"Can she do that?"
"Yes, the governor general is the head of the CAF."
Mirth sprang up in Mufisso's dark eyes. "Did you wear your dancing shoes, Cinderella?" He hid a grin behind his glass.
"This isn't funny, Mufisso."
"No, Major." The corporal cleared his throat.
"I have to make a call." Zara finished off her drink in one gulp and put the glass down on the marble fireplace mantle. The liquid burned a warm path down her throat. It served as a distraction as she looked around for the closest exit. Somebody was up to something, and Zara didn't like it.
She took the hallway left to find a quiet spot to make her call.
An alcove with a soapstone carving of a walrus on a pedestal would do. She dug out her encrypted smartphone.