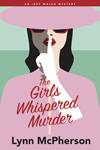 BY: LYNN MCPHERSON
The second book in the Izzy Walsh Mystery Series!
Springtime is beautiful in the cozy town of Twin Oaks, nestled along the New England coastline. It's 1954, and Izzy Walsh is at The Mariner's Whisper, Twin Oaks' most popular dinner club, for a girls' night out.
But the fun is short lived and the highballs run dry when the chef is found murdered the next morning. Izzy finds herself drawn into the mystery when clues turn up everywhere she goes. She is determined to help, but a party of suspects begins to crowd the menu, and it becomes hard to choose just one.
Can Izzy find the culinary killer and live to tell the tale, or will her boundless curiosity lead to her own dead end?

TAYLOR JONES SAYS: In The Girls Whispered Murder by Lynn McPherson, Izzy Walsh is at it again, trying to solve another mystery and involving her best friends in suspense and danger. This time, the chef at their favorite restaurant has been murdered, and once again, one of her friends is a suspect. Even though Detective Jones tells all the ladies to leave it to the police, Izzy is not the type of woman to abandon a friend in need. Her friend, Harriet Smith, the wife of the restaurant owner, has a mysterious and secret past that she refuse to talk about, so Izzy and her three best friends go on the hunt for clues, determined to discover if Harriet could possibly be guilty of murder.
Charming, intriguing, and highly entertaining, McPherson has another winner on her hands. A really great read.
REGAN MURPHY SAYS: The Girls Whispered Murder by Lynn McPherson is the second in her Izzy Walsh Mystery series. This time, our intrepid heroine, Izzy, is out to prove that her new friend, Harriet, is not guilty of murder. Harriet is the owner, with her husband Howard, of The Mariner's Whisper restaurant, and when the chef is murdered, Harriet and her husband are the natural suspects. Izzy wants to believe her friend is innocent, but when Harriet refuses to talk about her past, it raises questions that Izzy is afraid the police will find suspicious. So Izzy and her best friends—Mary, Jo, and Ava—take it upon themselves to solve the mystery.
The Girls Whispered Murder takes you back to a simpler time—a time when crime levels were low and murder in a small town was a rare occurrence. With marvelous characters, an intriguing mystery, and plenty of twists and turns, this one will keep you engrossed all the way through.
Chapter 1
The ocean always smelled good in the spring. Today, the fresh April air offered a sense of renewal. I took several deep breaths while standing near the edge of the cliff overlooking the New England coastline. The sun gave me a fine soaking of its warm rays. I closed my eyes, and a light spray from crashing waves on the shore below moistened my face. I couldn't think of a better way to wash away the old and welcome the new, especially in our cozy town of Twin Oaks. The Whitmore Estate, owned by my dear friend Mary Whitmore, had the best view in town. I was in no rush for this moment to pass.
It had been an exceedingly slow winter, with cold days, long nights, and gentle healing. Mary lost her husband of twenty years the previous summer and struggled to recover, challenged by the unsettling discovery that he had a dark and violent temper. Unbeknownst to Mary, he unleashed it on several unsuspecting women. It was this secret rage that got him killed. But like the buds of tulips emerging in her garden, Mary was ready to break new ground. It was 1954 and time to embrace the day ahead.
My roaming thoughts were interrupted as I heard someone come up behind me. I opened my eyes and turned to see who was approaching. It was my best friend, Ava Russell. She was getting her black stilettos awkwardly stuck in the soft ground as she walked, simultaneously eyeing me with an odd look of concern and confusion. Her dark, arched eyebrows raised up, and her bountiful chestnut curls fell to one side as her head tilted to the left, exaggerating her rather tenuous balance.
"Izzy, I didn't know your face had so many sweat glands. It's not even remotely warm out. I think you need to go inside. It looks like you're about to overheat and fall over those cliffs."
"I'm not sweating, you oaf." One of Ava's favorite pastimes was getting on my nerves and interrupting any peace and quiet I could manage to find. She never failed to succeed.
"Excuse me, perspiring then."
She regained her balance using my poor, unsuspecting arm. She brushed herself off and pulled down her red kitten-framed sunglasses, to get a second look.
I was curious. "Have you ever walked out this far to look at the spectacular view? The sea mist rises up from the pressure of breaking waves."
Her eyes widened so much, I could see her warm brown eyes behind the thick layers of black mascara. "Of course not. It's a treacherous walk. I almost broke my leg trying to reach you."
I pressed my lips together firmly in an effort to restrain my smile. "Perhaps it's time to invest in flat footwear again. The walk might be reduced to mildly alarming."
"Don't be ridiculous, Izzy. That would give away my true stature. I'd almost look as…petite as you."
I swatted at her. "I don't mind you calling me short. I've accepted my five-foot-two-inch frame. It's much easier than trying to emulate your long gams."
She put both hands on her hips before facing me. "My legs are my best asset. I just try to focus on the positive."
"Of course, your pretty eyes and perfectly pouty lips must be quite a burden," I teased.
"Why must you insist on giving me a hard time? Sometimes I wonder why I put up with you."
I folded my arms over my chest. "It's probably because I always remember to bring extra wine when we go somewhere. I'm guessing that's the real motivator for your visit."
Ava turned her frown upside down and threw her arms up in defeat. "Okay, you got me. Your trunk is locked, and I couldn't find the key."
I took the key out of my pocket and tossed it to her, "Voila."
"Thank you," she said as she started back for solid ground then paused as she realized I wasn't following. "Aren't you coming?"
"I'll be there in a jiff. I just want one more moment to take in the view."
Ava turned away and jingled the car keys high in the air. "Leave it to me. It'll be sitting on ice."
It felt so right to be back here with Ava and Mary, just waiting for the fourth in our quartet of confidantes. Jo Reynolds completed that circle, and together I believed we could get through anything. Over ten years earlier we first met, working together at a munitions factory. Life-long friends, Ava and I signed up together. We immediately bonded with Mary, sharing a love and a need for laughter as we labored through the darkness of the war. Jo came about a year later. She was shy and unsure of herself. Mary, who was our line manager and den mother, took extra time and care to bring Jo out of the fragile shell in which she existed. She had just come from an isolated family and was struggling to cope with the recent loss of her beloved brother. Once Jo became more comfortable and accustomed to life with us, her confidence grew, and she naturally blended into our little clique like butter on bread. That bond remained strong to this day.
A taxi pulled up, and Jo emerged, looking every bit the professional woman she had become. Quite a contrast from the timid young woman we met so many years ago.
Jo looked around and waved at me. I could see a smile on her face coming from under the stylish velveteen circle hat she wore. She had learned how to best dress her tiny, almost boy-like frame with tailored suit jackets and matching skirts paired with trendy high-heeled pumps. She always completed the look with a fun accessory or two and light makeup that suited her delicate features and her curly, fair hair.
I waved excitedly and quickly made my way to the large entrance of Mary's estate where Jo waited calmly for me. It took me no time at all, as I was undaunted by the thawing ground with my ballet-style flats and light step.
She tried to give me a big hug, but I pulled away after a brief squeeze, feeling the need to examine the soft, fitted beige suit she wore, paired artfully with the trendy hat. "I think I need a stylist if I'm going to be socializing with the likes of you. Gorgeous, but understated. Absolutely fabulous."
Jo grinned. "The way you talk, a person might think you dressed in a paper bag, Izzy. Given the fact your cropped fancy pants look like they just walked themselves off the fashion pages, I think you'll fare just fine—and that little hair jewel, too. The violet sparkle against your black hair brings out your eyes. You could almost pass for a teenager, for goodness sake."
I bowed my head lightly. "Thank you, Jo. I've always been drawn to a rebellious spirit." I kicked up my heel for effect.
Before I had a chance to finish my youthful demonstration, the door swung open. Mary and Ava came bursting out.
Mary reached Jo first. She opened her arms and enveloped the petite newcomer. "There's our hard-nosed journalist." Mary's praise and approval meant a lot.
"Don't suffocate the poor girl," Ava scolded Mary before scooching in herself and squeezing Jo tighter than a lemon in a gin fizz.
Jo gave me a sideways smile as she tried to regain her breath. I shook my head. "I can't believe we get to celebrate yet another accomplishment by our youngest companion."
Ava now took a minute to survey Jo. "You may need to slow down your professional successes. Every time you achieve something of note, we go out for a drink. Keep it up, and you might turn me into a lush."
I could feel my eyebrows lower. I tapped my lips with my index finger. "Ava, we haven't been out for a drink in months."
Ava dismissed my comment with the wave of her hand. "Yes, but I hear about things and feel the urge to celebrate at home."
I scoffed. "Like how Jo got to work every day last week on time?"
We were all aware Jo had never been late a day in her life. "Izzy, it's important to celebrate the small victories, not just the large," Ava reminded me proudly. She sidled up to me and affectionately put her head on my shoulder then tried to jab me without anyone else noticing.
Mary ignored our antics and linked arms with Jo. "Let's get you inside so you can relax. It's a big day." They headed straight for the sunroom.
Ava looked dismayed at the fact she couldn't quite hear the conversation between the two walking in front. "I don't want to miss a speck of gossip. Speak louder."
Jo had been given her first official writing assignment at the local newspaper where she worked. She started her career there less than a year ago and had gone from a girl Friday, doing entry level secretarial jobs; to editorial assistant, working directly on the articles going into the paper; and often staying late in the process. Her hard work and dedication paid off. She was given a trial writing assignment for the Town Life section. It was a behind-the-scenes look at Twin Oaks' most popular fine dining restaurant, The Mariner's Whisper. Jo recognized what a great opportunity it was and dedicated all her free time for a month to research the article. It was going to be printed in tomorrow's paper, so we agreed to celebrate at the restaurant.
Mary's housekeeper, Mrs. Collins, had prepared appetizers in the sunroom on a small coffee table covered by a crisp white tablecloth. The tasty spread allowed just enough room for each of us to sit comfortably on our favorite loveseats with copious amounts of fresh treats within reach. There was a variety of finger foods and a loaf of fresh bread with cheese, plus a jug of water with lemon and lime slices. A vase of delicate and brilliant violet orchids, Jo's favorite flowers, sat in the middle. When Jo saw the thoughtful display, she was visibly touched.
Mrs. Collins, an older Scottish lady with a thick accent and strong opinions to boot, lumbered into the room just after we did. She always walked with a purpose, almost bull-like in her build and her movements. We'd all known Mrs. Collins almost as long as we'd known Mary. We had grown to love and respect her as an authority figure not to be messed with, and she, in turn, had grown to expect and accept our silly antics with rolling eyes and a sharp wit.
Jo approached the endearing housekeeper with open arms. "Isn't this your day off, Mrs. Collins?"
"Get away," she instructed sternly, waving Jo back, "I've flour all over my apron. It'd be a shame to mess up that fancy garb. I will give you a pat on the back just the same. But, yes, it's my regular day off. However, a victory for you is one for me as well, so I wanted to be here to congratulate you."
"Thank you," Jo said sincerely.
"Yes, well, I also couldn't risk you lot causing too much of a stir before you head out to celebrate. I've my kitchen to protect," she said with a wink.
"That doesn't make it any less thoughtful. I'm touched."
"Well, go on then and have some food before it goes to waste," Mrs. Collins instructed. She silently handed a corkscrew to Ava then exited the room with almost a bounce in her heavy step, clearly pleased she was notably appreciated. We all sat down and got comfortable. It was hard not to in the cheerful sunroom. Jo sat next to Mary, and I sat across from them. Ava kerplunked next to me so hard I almost tipped over.
"What would we do without Mrs. Collins?" Mary asked rhetorically.
Ava shuddered. "I, for one, would probably get scurvy. I think the only time I ever eat fresh fruit is here. With all the new types of frozen dinners available now, I rarely have the patience to make food from scratch anymore."
I popped a cheese cube in my mouth. "Remind me to keep our Sunday dinners at my house."
"I'd be much more inclined to spend time in my kitchen if it looked like yours. Not everyone can boast a new kitchen in robin's egg blue. You even have Formica countertops and linoleum floors. I've told Bruce he'll get a five course meal if I get a new oven to cook it in."
I had to admit a modern kitchen was a fabulous asset. My husband, Frank, worked tirelessly on Christmas Eve to surprise me with it for the holidays, secretly prepping it weeks before. He always managed to find a way to show me that I was on his mind, even when he was working day and night.
Jo tapped Ava on the shoulder. "Didn't Bruce take you to New York for New Year's Eve and buy you a new gown just for the occasion?"
Ava's eyes lit up, and she pressed her chin to her shoulder as she smiled at Jo. She loved to be reminded of the magical gift her husband bestowed upon her. "You writer types always remember the big stories. We went into Bloomingdale's, and I probably tried on at least a dozen dresses before settling on one."
"Elegant and fitted perfectly to your hourglass figure," Jo said enviously.
I agreed. "It looked like it was ordered right out of the Dior fashion spread from Vogue."
Ava now sat up energetically, seeing that we were all attentively waiting to listen, once again, to her cherished memory. Her hands were up, ready to fully animate the tale. "I went to the tailor three times to get it just right. We dined and danced that night until the moon began to fade from expending its glowing energy upon us." She paused for a moment to sip her wine. "I hope my dress still fits. I better try that gown on again before my birthday next month in case Bruce is planning something big. I may have to reduce just to get back into that slinky number. After all the holiday treats, my perfectly tailored dress may not be so perfect."
Jo wrinkled her nose. "I don't think I could stick to a diet, dress or no dress."
Mary turned to Jo. "My guess is you'll never have to. Your petite frame is so natural. Some of us are more familiar with the notion of reducing, unfortunately. However, a skilled tailor can transform an unremarkable outfit into a striking one. And I happen to have the best tailor in town."
Ava clapped her hands together. "I'm glad to hear that because I intend to indulge tonight. There's no way I will deprive my taste buds of any of the delightful menu items it may demand."
I patted my stomach. "When mine requires something, it's out of my control—and last time I was at The Mariner's Whisper, they had the best orange chiffon cake I've ever tasted."
Jo groaned. "I'm getting hungry thinking about it. I went there often to do research for the article and somehow got a meal out of each visit. There's no doubt they have the yummiest food in town."
Ava rubbed her hands together as if preparing for the main event. "Yes, yes we all agree about the food. But now let's hear about the real scoop. The story behind the reclusive couple."
Jo frowned. "I think they're just private."
"It's a little odd," Mary said. "The Smiths have been invited several times to participate in town committees—which they've declined—they're rarely seen around town, and they've never gone to any local celebration or festival. They've even been invited to become members of the country club. They have turned down every opportunity to become an active part of our community."
Jo wasn't swayed. "You all need to remember that not everyone is interested in participating in communal sharing and caring. You converted me, but until I met you three, I was very shy and introverted. Those qualities do not make a person untrustworthy or suspicious."
Ava forced a cough. "But to choose to only have your husband to talk to? Every day?" She wagged her finger. "Unless they're newlyweds, I reassert my doubts."
I imagined life if I only had my beloved husband to talk to day in and day out. "Sorry, Jo, but I have to back Ava on this. It's just not natural to only want the company of one person every waking hour, no matter the love and esteem you may hold for them. Besides, I've often seen Mrs. Smith gliding around the restaurant chatting to customers, but I don't even know what Mr. Smith looks like. If they were that close, wouldn't they be doing it as a team?"
Jo sighed. "Well, I can assure you they are both nice people. I guess we'll just have to amicably disagree."
Ava fluttered her thick eyelashes. "Or we'll accept that we're right, and you're biased."
Jo guffawed. "Just pour me a glass of wine, you buffoon. I warn you, one of these days, I may have to smack you."
Ava stood up to fulfill Jo's request. "Why do you think I always wear heels?" She towered over Jo to demonstrate the impossibility of our petite friend reaching her target.
I threw a grape and hit Ava's ear as she poured the wine. She jumped, flapping her hand around it, assuming it was a large bug. The rest of us were highly amused.
Ava flopped onto the couch, looking at us suspiciously while skillfully avoiding a spill from either of the two glasses she had just filled. Shrugging her shoulders dismissively, she then passed a glass to Jo. "I am immensely proud of you and count the hours when I finally get to read the article you've worked so hard on. Well done."
We all clinked glasses.
Ava squinted her eyes after taking a sip. "Any chance you included a recipe?"
We all paused, surprised by Ava's sentiment.
She rolled her eyes. "I figured I could press Izzy to make it for one of our Sunday dinners."
Jo shook her head adamantly. "I thought about that and asked the chef, but he refused to give away any culinary secrets."
I tapped my forehead, trying to jog my memory. "He seems pretty active around town lately, what's his name—Martini? I always seem to get it wrong."
"Leo Bellini," Mary informed us. "He just started regularly volunteering his time and talents for women's club dinners and won't take any payment, insisting all the money raised go to whatever charity we are fundraising for."
Jo hesitated. "Yes, he does seem nice enough out of the kitchen."
I felt my eyebrows lift as I noticed Jo's hesitation. "And in the kitchen?"
Jo bit her lip. "I think cooking is a real passion for him. He sees it as an art form and can get caught up in the moment."
I frowned. "His passion can overshadow his manners?"
"Yup," Jo said, nodding her head to show her full agreement.
Ava let out an audible puff of air. "Sounds like a jerk."
Jo bobbed her head from shoulder to shoulder as if she were debating the question before answering. "At times, yes, but he's very different in and out of the kitchen. He is completely no nonsense when he is focused on a dish. I saw him screaming at his assistants on more than one occasion. I also made the mistake of waltzing into his workspace to ask a quick question. He glared at me and demanded that I get out. But after the kitchen was closed, he approached me with an open, friendly smile, and explained gently that he cannot be disturbed for fear of ruining a meal."
Ava was frowning. "That's no excuse."
"The kitchen workers are not the only ones in firing range," Jo told us. "Howard and Leo often don't see eye to eye either, although Howard is just as quick to anger as Leo. It can get quite intense."
Mary, who had been quietly listening, let out a quiet sigh.
The conversation halted. "You okay, Mary?" I asked.
She looked at us with trepidation, "It's just weird that I've worked on so many charities with Mr. Bellini over the last year, and I've never had an inkling that side of him existed. Between Leo and my disturbed deceased husband, I'm questioning whether I have any real sense of people at all!"
Jo grabbed her hand and looked her in the eye, "Mary, it is completely different. Artists in every field sometimes let passion dictate their moods and behavior. No one ever worried if Michelangelo was grumpy."
I leaned forward and put my hand on Mary's knee. "And remember, Charles had everyone fooled, not just you. His character is not a reflection of your shortcomings. On the contrary, I think we are all amazed at the strength and resilience you've shown."
Mary met my gaze. "He didn't have you fooled."
I sat back, unsure of what to say. Ava gently elbowed me. "You can't expect to have the same weird intuitions this one does. I still haven't decided whether it's a sixth sense or general paranoia."
Mary conceded Ava's point with a gentle smile, "It's odd, isn't it?"
Jo folded her arms and seemed ready to jump on board. "For someone who is such a blinding ray of sunshine most of the time, she certainly has a suspicious mind."
I put my hands on my hips and sat up straight. "Why are you guys ganging up on me? We've established I have an eye for trouble. It's a natural and uncontrollable gift."
Ava turned toward me. "I'm not complaining—I like it. Besides, there's no need to get into all that right now. We need to get moving. I'm hungry."
Everyone agreed, and we got ready to go.
Ava was reapplying her red lipstick in the front foyer mirror when she caught my eye in the reflection. "What was it that Detective Jones said about you?" She was referencing the police officer in charge of Charles Whitmore's murder.
"Oh Ava," Mary scolded her with a grin.
Ava ignored Mary's half-hearted attempt to stop her. "I believe he said the way Izzy sniffed out trouble he might have to start calling her The Albatross, as our feathered ocean friend can sniff things out a mile away."
My friends all burst out in a fit of giggles. I opened my mouth, ready to defend myself above the noise but quickly closed it again. I recognized the futile nature of the argument. I tucked my dignity in my pocket and walked out the door with head high and my nose in the air, trying to look unaffected by their ridicule. This was an ill-timed gesture, as it made them laugh that much harder.
© 2018 by Lynn McPherson