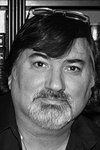 Tj O'Connor first fell in love with writing while in grade school and, over the years, continued to dabble with characters and stories whenever life allowed. Recently, he has focused his energy on pursuing this dream—interrupted only by life as a security consultant and the demands of his Labrador retrievers.
He's completed nine novels and is working on another—a thriller surrounding a rogue terrorism consultant and a mind-blowing plot to attack America. Today, his alter ego is as an independent security consultant in Northern Virginia. His practice works with government agencies and private businesses, providing anti-terrorism consulting, security programs, and all types of investigations. He counts his blessings for great clients and the best professional team he could ask for.
Prior to working independently, he was a senior executive of a global risk mitigation firm that specialized in security consulting and investigations. They served clients all over the world, providing consultation in major criminal and civil investigations, risk assessments, anti-terrorism, surveillance, kidnap and ransom services, and management consulting.
During the 1980s and early 1990s, O'Connor was a government agent and had the fortune to work with some of the finest, most dedicated people he's ever known. During those years, he lived and worked around the world, conducting investigations and anti-terrorism operations. Uncle Sam sent him to places like Athens, Rome, Venice, London, Istanbul, Madrid, Frankfurt, and many others, which shall remain nameless. He will be forever thankful to the friends and colleagues he met along the way and the opportunity to have had a tiny share of the history made back then.
O'Connor was born in Worcester, Massachusetts, and was raised in New York's Hudson Valley. His loves include writing, reading, cooking, Harley Davidson motorcycles, and hanging with his lab companions, Toby and Annie Rose—and of course, his wife! They have raised five children in northern Virginia where they continue to live.