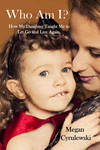 BY: MEGAN CYRULEWSKI
Megan Cyrulewski is an ordinary person who has faced extraordinary challenges and now wants to inspire people and show them that hope gives them the power to survive anything. Who Am I? is about her journey into post-partum depression, anxiety disorder, panic attacks, visits to the psych ward, divorce, domestic violence, law school, and her courageous struggle to survive with her sanity intact—and how a beautiful little girl emerged from all this chaos.
TAYLOR JONES SAYS: Who Am I? by Megan Cyrulewski is an honest account of one mother's failures and successes in freeing herself and her child from a destructive and abusive relationship. While Megan's ex-husband was not physically abusive, for the most part, he was verbally and emotionally abusive. One thing that I learned from reading this book was that not only is verbal and emotional hurtful and wrong, it is only a short skip over the line to physical abuse. And someone who commits verbal and emotional abuse is more than likely to, eventually, resort to physical abuse when the verbal and emotional abuse no longer is enough to get what the abuser wants.
I was both saddened and impressed by the account of Megan's marriage, divorce, and subsequent custody battle. She showed a great deal of courage and determination to ensure that her small child was not, and never would be, abused by her ex-husband. It takes a lot of physical, emotional, and financial stamina to win such a case. Especially, with so many courts today more concerned about being politically correct than about ensuring the child is safe. But I think what impressed me the most was that the author appeared to be completely honest. She freely admitted her mistakes and didn't try to paint herself up as the perfect mother.
REGAN MURPHY SAYS: Who Am I? by Megan Cyrulewski is a non-fiction account of a mother's struggle to protect her daughter from an abusive ex-husband. While her ex-husband apparently had a number of "alphabet disorders" (those with three- and four-letter acronyms), that doesn't excuse the fact that his biggest problem is that he never grew up and learned to control his temper tantrums. Who Am I? is a chilling look at what can happen to a woman who gets trapped in a marriage with an abusive spouse. And while, at least most of the time, the author's ex-husband was not physically abusive, it is clear that abuse is still abuse and that words can sometimes be as hurtful as fists.
The book has a real ring of truth, both in the fact that the author exposed her own problems, but also that she didn't try to excuse herself as being a victim of abuse. There is no "poor little me" aspect to the story, just the disappointment, despair, and outrage that a father could behave so horribly to the family he claims to love. For me, at least, the book was an eye-opener, thought-provoking, and well written—an honest account of a mother's struggle to protect her child when the man she married suddenly turns into a monster.
Chapter 1
Ahhh…Young Love
Envy. There is a reason why it's one of the seven deadly sins. It can kill you. It almost killed me.
The summer of 2004, I was 26 and had just gotten out of a long-term relationship. Good man, he just wasn't the right man for me.
I had just found out that my old college roommate had recently gotten engaged. The two of us were always "competing" during college: who was skinnier, who could pick up the most guys at the bar. Stupid girl stuff. Other friends of mine were either married or having babies. I think the last straw was finding out my high school sweetheart had gotten engaged. Somewhere in fantasyland, I always thought it was possible we might get back together. Needless to say, I was definitely envious.
That summer, my roommate, Jessica, bought a house. At the time we were sharing an apartment, but she asked if I wanted to move into her house. Jessica and I had known each other since high school and she was the best roommate, and one of the best friends, I have ever had. Without hesitation, I agreed. A month after moving in, we had a house warming party. That's when I met Tyler.
I knew Tyler slightly because he was engaged to one of Jessica's friends, Natalie. Tyler and Natalie and been together for about three years. They even came to a couple of parties Jessica and I had thrown at our apartment. I had never really talked to him, though.
Tyler and Natalie had broken up around the same time I had broken up with my-long term man.
Jessica didn't want to invite Tyler because she didn't want any tension between him and Natalie. A few days before the party, though, we found out Natalie was going to be out of town. Coincidentally, Tyler stopped by that same night to give something of Natalie's to Jessica. That was the first time I had really looked at him and I liked what I saw: good-looking, goofy smile, and deep-blue eyes. The attraction was instantaneous. So I decided to invite him to the house-warming party. Why the hell not? Natalie wasn't going to be there. After giving me the eyes of death, Jessica reluctantly told him the date and time.
The night of the party, Tyler knocked on the door. When I opened it, I gave him a hug and told him I was glad he was there because at least I had someone to flirt with. I didn't really pay much attention to him during the party. But after everyone left, Tyler and I ended up talking until five in the morning.
A couple of nights later, we went on our first date. We went to dinner and then back to his house to watch a movie. We were very open with each other. I told him about my anxiety disorder. He told me about his drug addiction and how he had been clean for years. Five months later, I moved in with him. Four months after that we got engaged, and a year later, we were married. Needless to say, the relationship was on overdrive from the beginning.
The relationship wasn't perfect, but whose is? Tyler didn't like his current job and was looking for a new one. He was trying to quit smoking because he knew I didn't like it. He was also a recovering addict and going to NA meetings. It's a stressful time. That became my mantra.
Tyler got angry. "It's a stressful time."
Tyler screamed at me. "It's a stressful time."
I was an independent woman in my mid-twenties, in a stable job making $55,000 a year, and climbing up the corporate ladder. I understood stress. I was also in complete denial. This was the beginning of what I would later understand was a domestic violence relationship with someone who had Narcissistic Personality Disorder (NPD). There were signs of these disorders, of course, but I didn't recognize them at the time.
My paternal family is 100% Polish. In my grandmother's generation, girls were expected to get married and have babies. A lot of babies. My grandmother was one of six children. After I graduated from high school, on every Christmas Eve, my grandmother would pray that the next year I would get married and start a family. I always smiled and told her maybe. I loved my grandmother very much. She was the only grandparent I had ever known.
After Tyler and I got engaged, we went to my grandmother's house to tell her the news she had been waiting for. When we told her, she stood up, pushed me aside, hugged Tyler, and said, "God bless you."
The memory still makes me smile. Three months later, she had a stroke. In February 2006, seven months before the wedding, my grandmother passed away. Devastation doesn't even coming close to describing how I felt. I called in sick to work, stayed in bed, and cried for two days.
The night of the funeral, my dad's company catered a dinner at my parent's house for our family. On the way to their house, I noticed that my car was low on gas. I stopped at a gas station and asked Tyler if he could pump the gas. Tyler was on the phone and told me to pump the gas myself. We were only two miles from my parents' house. I was still upset and crying from the funeral. I asked him again to please just pump the gas. He didn't even bother to answer me. I got out of the car and pumped the gas myself. When I got back into the car, I told Tyler that I was upset and a little angry. What happened next was my first glimpse into the emotional abusive side of domestic violence.
"You are such a spoiled little bitch who expects the world to be handed to you," Tyler screamed at me. "Turn the fucking car around."
Not saying a word, I turned the car around and headed back home to drop off Tyler, who kept spewing vile words.
"You and your family think you're so much better than me. Did Daddy pump your gas for you all the time? Well guess what? You actually have to do things for yourself now. It's time for you to grow up and live in the real world."
Tears streamed from my eyes. I still had not said a word.
"Your grandmother probably killed herself because she didn't want to deal with you anymore. She probably got tired of your spoiled behavior and decided death was better than you. I'm glad I'm going home because I don't want to watch your fucking family cry all night."
When we got back home, I parked in the driveway and finally let loose.
"How dare you!" I screamed at the top of my lungs. "I just lost my grandmother! Get out of my car! Get out!"
Tyler started laughing. "Look at you. You're a joke. You should get some help for those anger issues of yours. Don't bother coming back, bitch. Your shit will be on the curb."
I left and went to my parents' house. When my dad asked about Tyler, I said we got into an argument and he was at home. My dad, who was the family peacemaker and almost never said anything negative muttered under his breath, "What a night for him to pick a fight."
About an hour into dinner, Tyler called me. He said he wanted to come over and apologize. At this point, I was so emotionally drained I really didn't care. When he arrived, he waltzed right into the house like nothing had ever happened. He pulled me aside and told me that he blew up because he was under so much stress from taking care of me the last couple of days. Looking back at the moment, I wonder how he even had the audacity to blame my grandmother's death for his behavior. At the time, I was just glad he wasn't mad anymore.
The next couple of months were calm. No arguments and Tyler and I were having fun planning the wedding. Obviously, the argument the night of my grandmother's funeral was a result of stress. We got through it and according to Tyler, it wouldn't happen again.
Early June 2006, I was in bed, reading and waiting for Tyler to come home from a Narcotics Anonymous (NA) meeting. When he got home, he came upstairs and walked toward the bed. He stopped and asked if I smelled anything.
"No," I said, a little confused.
"It smells like cat piss." (We had a cat that sometimes urinated outside the litter box.)
Tyler looked around the room and picked up a bed pillow off the floor. He smelled it.
"She pissed on this pillow."
I laughed. "It's sad when the pillow is right next to me and I can't smell the pee."
Tyler didn't laugh. "Clean it up."
"I'll put it in the wash tomorrow. Just throw it in the basement."
Tyler picked up the pillow. "Bitch. You waited until I came home because you knew I would fucking clean it." He ripped the book I was reading right out of my hands and threw it across the room. "Get off your fat lazy ass, get some paper towels, and clean it!"
I started to shake. The monster had emerged again. I couldn't say anything. Tyler picked up the pillow and shoved it in my face.
"Smell it!" he screamed. "Can you smell it now, bitch? Now your face smells like cat piss. You're disgusting. Who would want you, anyway?"
Tyler threw the pillow back on the floor and stormed downstairs. I just sat in bed, paralyzed from fear. I couldn't think. I couldn't speak. I couldn't even cry.
I don't know how much time had passed before Tyler came back. Without saying a word, he picked up two water bottles I had sitting on the nightstand beside me, unscrewed the tops, and poured water on me. He laughed and went back downstairs.
I took off my pajamas, turned out the light, and rolled to the dry side of the bed. Before long, I heard Tyler come up the stairs again. I began to shake. He ripped the covers off of me.
"You would sleep in a wet bed. I should have poured cat piss on you and let you sleep in that." He laughed. "Get out of my fucking bed and sleep outside."
I got out of bed and put on dry pajamas. I took off my engagement ring, threw it on the bed, and left. I went to Jessica's house and asked if I could spend the night. I didn't talk about what happened. I just told her that the engagement was off and I just needed to sleep. Jessica never asked any questions and I loved her for that.
Before long, my phone rang and it was Tyler. He asked me to come back home. I was hesitant, but he convinced me to come back home and talk. I left Jessica a note and went back home.
When I got home, Tyler was sitting on the couch. "I'm going to get a six-pack of beer, drink it, and kill myself."
Shocked, I sat down next to him. "Do you want me to call someone? Should I call your sponsor? I don't know what to do."
Tyler kept repeating. "I'm going to kill myself." He was crying, but there weren't any tears.
I hugged him. "We'll get through this. We'll get help. Please don't kill yourself. I love you too much."
"Thank you," Tyler smiled. And just like that, he got up, told me he loved me, and went to bed.
Looking back, I now realize that this was Tyler's way of manipulation. He knew he let his anger get out of control, to the point that I walked away. To get me back, he subtly blamed me for what happened by alluding that he was going to commit suicide. At the time, I felt guilty for not cleaning the damn pillow. If I had cleaned that pillow, this never would have happened. I promised myself to be more careful in the future.
The next morning, my engagement ring was on my nightstand.
© 2014 by Megan Cyrulewski