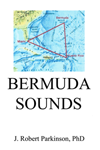 BY: J. ROBERT PARKINSON
Investigative reporter Mark Williams and his marine biologist wife Flo are trying to decide where to go on vacation when they get a frantic phone call from one of Flo's old professors who now lives in the Bahamas. He begs Flo and Mark to join him in Bimini, promising new scientific discoveries for Flo and a breaking-story scoop for Mark. Intrigued, the couple fly to meet Professor Delta in Bimini. But what they find when they get there is a lot more than they had bargained for—in fact, it could cost them their lives…

TAYLOR JONES SAYS: In Bermuda Sounds by J. Robert Parkinson, Mark and Flo Williams are trying to decide on where to go on vacation when Flo gets a frantic phone call from an old professor who is now in Bimini. Professor Delta believe he is on the verge of a breakthrough scientific discovery, but he wants Flo, who is also a scientist., to go over his data and check his fact to see if she reaches the same conclusion. Flo is hesitant, as this was supposed to be a vacation, so Delta sweetens the pot, promising that her reporter husband Mark will get an exclusive scoop on the discovery. So Mark and Flo head to Bimini. When they arrive, they discover the professor has stumbled onto something that some powerful people don't want exposed, and if they aren't careful, it could cost all of them their lives.
The story is fast-paced and intense, the plot strong, and even the science is plausible. I thoroughly enjoyed it.
REGAN MURPHY SAYS: Bermuda Sounds by J. Robert Parkinson is the story of a scientist who discovers something he shouldn't. Professor Delta lives in Bimini, and he thinks he knows the secret to the Bermuda Triangle. He calls a former colleague, Flo Williams, and asks her to fly to Bimini to double check his data and make sure his conclusions are sound. When Flo hesitates, Delta promises her that her husband, who's an investigative report, will have the story of the century when the discovery is unveiled. When Mark and Flo arrive in Bimini, the science seems to check out. At least in the lab, but when the trio decide to test their theory on the open ocean, they run into far more than rough water. The secret of the Bermuda Triangle seems to be a secret that some powerful people don't want exposed, and they will do anything to stop it.
I like the story, and the theories presented make a lot of sense. Parkinson combines, mystery, science, and suspense to create an intriguing, thought-provoking, and entertaining tale. Very well done.
CHAPTER 1
Mark and Flo Williams were figuring out where to go on vacation. They had been married for a little more than four years, and this was the first chance they had to get away.
When they had finished college, each followed a different career path, and both achieved a level of success, although neither was where he or she wanted to be yet.
They met after graduation, and it was a case of opposite attraction. He was a gregarious investigative reporter and moved slowly up the ranks of the news business, but she preferred "Alone Time" in a laboratory.
Now they just wanted to get away for a little while, and they were studying travel brochures.
Mark was a TV reporter working for a Washington, DC station as a street reporter. He didn't expect to become an anchorman for some time–if ever. He was good on the street, but didn't have the personality or the presence–or the drive–to make it to an anchor spot.
Flo, on the other hand, was driven. As a marine biologist, she worked in applied research at the National Aquarium in Baltimore. She joined the staff there after completing a successful research project at Woods Hole. With a PhD tucked under her belt, she taught in the Marine Biology Department at San Diego State. Her work there was what brought her to the attention of the people at Woods Hole and to Dr. Ron Delta, with whom she would work closely before moving to The National Aquarium.
The worst part of winter was finally over, and Mark and Flo both had time off coming. Washington could be a terrible place to live in winter because no one seemed to know how to drive–and wasn't inclined to learn. As soon as there was an inch of snow on the ground traffic stopped, and drivers seemed to become stupid.
Mark and Flo were ready for a break, but as was often the case, they couldn't come to an agreement about a location.
Flo held up a brochure. "Spelunking."
"No way. Let's get out of here and see some real snow. Not this dirty stuff. Skiing will be good for both of us, Flo."
"You just want to see all those little snow bunnies in their tight pants."
"Yeah, like the ones you wear."
"Thanks for that, but soft talk won't work."
Mark just shook his head. "You can't blame a guy for trying. But why would you want to crawl around in a cave on your hands and knees when you can look at the sun and the mountains?'
"I don't know. Maybe it's because my mother made me stay so clean when I was little. And in the lab, everything is clean. I'm ready for something dirty."
"I like the dirty part, but when I was a kid, I was filthy all the time. Now I prefer the clean air and the mountains."
"Well, I don't want to travel a thousand miles just to get cold and wet in the snow."
Mark gave a shrug. "Maybe someplace we can find a mountain with a cave," he murmured. "But look, we have three weeks' vacation coming with nothing to do, so let's find the right 'nothing' and get started."
"Maybe the Encyclopedia can help."
Mark picked up volume one and read "Afghanistan?"
"Too dangerous. Too hot."
"Alaska?"
"Too cold."
"Brazil?"
"Too many little string bikinis for you to handle."
Mark leered. "I'd like to try."
It was pretty clear this was going nowhere, and they were saved by a ringing telephone. Mark answered.
"Yes. Yes, she's here. Can I tell her who's calling? Okay. Just a minute." With a frown, he handed the phone to Flo. "It's for you. Professor something. Something about an airplane. He sounds excited–or high. I guess excited is better."
Flo put the receiver up to her ear. "Hello." A pause, then she exclaimed with excitement, "Professor Delta!" She shot an annoyed look at Mark for that childish remark about airplanes. "What a surprise! How are you?" She looked at Mark. "It's my oceanography professor from grad school," she said then turned back to the phone. "What are you doing? You sound as if something terrific just happened."
Flo heard Professor Delta take a deep breath then start talking so fast she had trouble following him.
"Flo, I think I've made a real discovery, but it's so simple on the surface, I need a tough mind and a pair of sharp eyes to check my findings. I need you. I need you to check my data. I want to be absolutely certain about these findings. Take no chances. No errors. No bad press."
© 2017 by J. Robert Parkinson