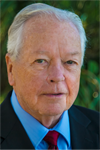 J. Robert Parkinson has served as a communications consultant and coach for numerous Fortune 500 companies working successfully at all levels of corporate, government, and academic institutions from CEO's to new hires. In addition, he has taught more than 1750 communication related programs for clients in the U.S. and internationally and consulted and conducted research in South America, Africa, and Australia. He earned a Ph.D. degree from Syracuse University.  His other degrees are:  MA in Management and Supervision, and BA in English and Biology from Montclair State University (NJ).
Writing extensively for publication, he has had 9 books published in the U.S.  One of his books, How To Get People To Do Things Your Way, has been translated into eight languages. His most recent books, Becoming a Successful Manager, Executive Briefings & Presentations, and How to Get Others To Do What You Want Them To Do, are available on Amazon.com and in major book stores.
For two years he wrote a weekly newspaper column, "Business Speak" for the Milwaukee Journal Sentinel in Milwaukee, WI, and for the past five years he has been writing a similar column titled, "Show and Tell" for the Sarasota [FL] Herald-Tribune. He served as host of For Your Consideration, an award-winning weekly radio program in Chicago. He hosted a similar television series, The Learning Curve, and co-anchored North Shore TV News. In addition, he has written, produced, and hosted television programs for CBS, NBC, and independent productions.
After serving on active duty in the U.S. Army, Parkinson began his professional career as a high school English teacher. Later he was appointed to positions as a principal and in central office administration. Professional positions include: Faculty and Director of School of Speech Intern Program, Northwestern University; Director of Research, Governor's Office, Springfield, IL; Director of Research, Bell& Howell Co., Chicago, IL; Director of Research, Supermarket Institute, Chicago, IL (now Food Marketing Institute, Washington, D.C.); Associate Dean/Teacher Education, National Louis University, Evanston, IL; Dean, Center for Research, National Louis University, Evanston, IL. Parkinson lives with his wife, Eileen, in Sarasota, Florida.