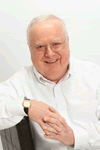 Daniel J. Barrett was born in Rutland, Vermont and has lived his entire life in Troy, New York, ten miles north of Albany. He is a graduate of both Siena College in Loudonville, N.Y. with a BS in Finance, and from Rensselaer Polytechnic Institute in Troy, NY, with an MBA in Management. He has had a varied career, first as a commercial banker, then as the chief accountant and manager of financial and strategic planning for a large division of a major international corporation. He has extensive international experience, traveling worldwide.
Barrett has also served as the first executive director for economic development for a county in New York State, and as the first lay director for a Catholic shrine in Massachusetts. For the last twenty years, he has served as a financial, strategic planning, and educational consultant to corporations, non-profit organizations, colleges and universities, and government agencies.
Currently, he serves as a grant writing and development and strategic planning consultant for a major non-profit organization in the Capital Region of New York State. Barrett continues to live in Troy and has been married to his wife, Sandy, for 43 years. They have three children, Sean, Eileen, and Ryan, and four grandchildren, Shannon, Caden, Megan, and Declan.
An avid reader, and inspired by numerous authors, Barrett has read over 1,300 books in the last five years in preparation to write his first novel, Conch Town Girl. He continues to work as a consultant, serving those most at risk in the Capital Region.