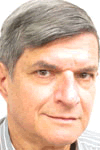 WE ARE SORRY TO ANNOUNCE THAT R. JAMES MILOS PASSED AWAY IN SEPTEMBER 2016. WE WISH TO EXPRESS OUR CONDOLENCES TO HIS FAMILY AND FRIENDS AND KNOW THAT HE WILL BE MISSED BY ALL WHO KNEW HIM, AS WELL AS HIS MANY FANS. AT THIS TIME, WE WILL CONTINUE TO SELL HIS TWO WORKS, WHICH WE HAVE UNDER CONTRACT, AND REGRET THAT  THIS VERY FINE AUTHOR WILL NOT BE AROUND TO CREATE ANY FUTURE WORKS.
R James Milos was a member of the Boy Scouts of America in Millington, New Jersey, a loose band of boys more interested in fun and activities than rank advancement or merit badges. Graduating from Seton Hall University with a BS in Education, Milos joined the Peace Corps as a teacher of English as a foreign language (TELF). Serving two years in Baghlan, Afghanistan, he returned as a middle school English teacher in Basking Ridge, New Jersey. He was awarded a Fellowship in Writing from Fairleigh Dickinson University. Milos attended Fordham University majoring in educational psychology.
Subsequent career positions included technical writer, manager of documentation, marketing communications director, and web content editor. Milos was past president and web master of the Tech Valley Chapter of the Society for Technical Communication and editor-in-chief for the NY LAN Journal. He had written technical manuals, marketing brochures, sales collateral, advertisement copy, and, while at IBM, developed, managed, and maintained an interactive, electronic customer agent. R. James Milos was the author of two previous novels and one novella. Several of his short stories and poems have been published.
"Writing is painting with words."