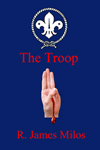 BY: R JAMES MILOS
In sleepy Long Hill Township in northern New Jersey, former members of Boy Scout Troop 186 are dying decades after the Troop was disbanded. Are these deaths coincidences? Accidents? Or are they the result of something much more dubious? While the police are slow to make connections, reporter Steve Mazur, one of the remaining Scouts and a well-known conspiracy theorist, believes it is the work of one man. Steve tries to convince the surviving troop members, the local police, and anyone that will listen. As the gruesome deaths mount, township residents become frightened and alarmed by the continuing murders, and by his articles in the local newspaper. The police suspect Mazur, but can they link him to the killings before more lives are lost?
TAYLOR JONES SAYS: In The Troop by R. James Milos, men who used to be a part of a Boy Scout troop in a small New Jersey town suddenly start dying. And no one seems to know why? One of the survivors believes it has something to do with the old Scout troop, which was disbanded decades before, and that all former members of the troop could be in danger. But he can't get anyone to believe him. The story takes us back and forth between the past events that happened in the Scout troop and the present day events happening to former Scout members—a sort of "before" and "after" look at their lives and the consequences past actions can have.
The story has the feeling of a thriller, with elements of mystery and even YA—a cleverly written tale with interesting characters and plenty of surprises in the plot. What more can you ask for?
REGAN MURPHY: The Troop by R. James Milos is a story of a small-town Boy Scout troop who, when they became men, discovered that past actions and attitudes often have inadvertent consequences. When members of the former troop start being murdered many years after the troop ceased to exist, one of the men, who happens to be a reporter for the local paper, believes the murderer is focusing on the former troop members for a reason, but he doesn't know what that reason is. As he investigates, he only becomes more convinced that the killer is targeting him and his childhood friends. He also becomes the prime suspect.
The Troop is well-written and filled with intriguing characters, unexpected twists and turns, and good-old-fashioned suspense. It will keep you turning pages from the first to the last.
Chapter 1
Homestead Park was a small subdivision in Long Hill Township, New Jersey near the Myersville Presbyterian Church–the first development of low-cost residential houses built in the 1920s. Because of its size and the few residents, it was a forgotten part of the township.
The scenic hills of the Watchung Mountains, the fascination of the Great Swamp, and the abundance of wild life and woods made for a sleepy respite for those who took the train to work in minor New Jersey cities to the east or to the end of the line, New York City.
A population of 8,800 retired each night, safely recalling picnics by the river; Memorial Day and July Fourth parades of Little Leaguers, Girl Scouts, and Boy Scouts; restful Sundays; and crisp winter activities leading up to Christmas. It was a good place to live and raise a family. Minor traffic accidents and teenagers bored with summers created minor disruptions. The township was an extended family and these interruptions were tolerated, compared to the bustle, noise, and crimes of larger communities. And like any family, there could be contention among its members. But no one in Long Hill was prepared for what was to come, especially from one of its own.
***
While sitting on the floor organizing abandoned belongings, he came across a beat-up tan shoe-box, wrapped with what seemed like an overabundance of black electrical tape, as if the contents of the box could escape. He didn't remember the box or ever seeing it before and wondered what was inside and if he should open it. Something–something raised his awareness and he was leery of what it might contain. The box was heavy, without any real weight, and though his curiosity was peaked, he tossed it aside and continued with other items. But it seemed to call his name. A forced glance and it appeared closer than he had thrown it. Slightly frightened, he slid over and held the box again. Nothing happened. Relieved, he tore off the tape and pulled the lid off. He thought he detected a foul odor. Inside were old Boy Scout troop paraphernalia. Among them were a neckerchief with slide and an old yellowing paper target with three holes.
He sat on the floor with the shoe-box on his lap, fingering the fragile target. The weight of the box seemed lighter now, for things trying to be forgotten but constantly retold had crawled out and swarmed around him. He breathed in a past. Recollections, cold and moist, slithered up his neck into his head, reviving the pain and anguish so recently experienced and hid away. Despite himself, he started to remember things and events he had tried to push down since boyhood. Behind these imprisoned thoughts was a harsh, low whisper, "Harmful acts are always intentional."
He tried ignoring it now as he had through all those retellings, but he wasn't successful. Carefully built barricades started to rapidly crumble. He knew the memories would begin to apply tremendous pressure to his actions.
He started to search for the bottles of Lithium and Jack Daniels he knew were nearby, but the narrative began again and he felt himself reviewing random memories he had so much difficulty trapping and ignoring. He realized now that he had to correct what had been so he could continue without these thoughts and embarrassments trying to be heard again. He had to make amends not only for himself, but for everyone whose life had been and was diminished by bullying. Calm swept through his body and resolve gave him strength. And in this quiet revelation, he came to understand that God had given him a mission. The Troop would pay dearly for a lifetime of unforgivable scars and be a lesson for everyone else.
Boy Scout Troop 186 was a small collection of area boys: a loose bunch of thirteen and fourteen year olds not abiding by scout rules, but using scouts as a front so the All Saints' Episcopal Church in Millington, New Jersey, would provide its basement for meetings.
Kenny Richardson was a tall, lanky, dirty blond with a sharp nose. Blue eyes below bushy eyebrows were always in motion. His father was a lawyer and his family had money. He was energetic, self-assured, and willing to take up any challenge. He would do anything to be ahead of others. His family's large brown Tudor house in Millington off Valley Road was always immaculate.
Clancy Dickerson was overweight and had asthma. You knew he was around because of his constant wheezing. His forever-rosy face was round, topped by light blond hair in a bowl cut. Thanks to an allowance–a concept unfamiliar to the other boys–Clancy always had a supply of candy. He lived in a big, white-columned, federal house on the ridge along Long Hill Road in Millington and never invited anyone over. The six-acre land the seven-bedroom house sat on was manicured by Spanish workers. Clancy always wore dress shirts and pleated trousers. T-shirts, dungarees, and casual wear were for plebeians, according to his parents.
Peter Weber was dark, short, and Jewish, but he wouldn't admit to his family's religion. He denied being Jewish, even though the Troop occasionally joked about it calling him "Jew boy." He ignored it with style. He didn't want to leave the Troop, since his very best friend Paul was a part of it. Peter's family moved from New York to New Jersey and this land was a wilderness. He was always eager to please and that suited the Troop well. He never told his parents the scout meetings were in the local Episcopal Church. He walked from his bi-level to Steve's house for rides to meetings.
You had to see Paul Moody to know he was around. Paul blended in with the environment and hardly spoke. There were no distinguishing features on his face. If the police had to make a portrait of him, the results would be more like a child's simple crayon drawing. He was gentle to a point and, because of this, the Troop ignored him. His clothes were always clean and neat as if he never played outdoors. No one really knew where he lived and, at times, the boys wondered what he really was thinking. His silence scared them on occasions.
Steve Mazur's parents had divorced–something new in the early '60s and the first in the area. The neighbors, mostly his father's relatives, ignored Steve's family. The stability and reliance of his family had shattered unexpectedly for Steve. The sudden desertion by his father led Steve to believe that not everything was random. All events had meaning. So Steve didn't trust anyone and suspected all until facts were produced. JFK's assignation further strengthened this opinion. Steve sought the Troop's friendship and the opportunities to leave the house his carpenter father had built from stolen job site materials. Steve was medium height, had brown hair and pointed ears, which he was always self-conscious of. He took as a joke the sporadic "Polack" naming from the Troop as a friendly term.
Teddy Nestor was asked to be part of the Troop as a good will gesture. Teddy wasn't right. His looks were narrow and thin, as though his mother squeezed him out as quickly as possible at birth. His hair was unkempt and spiked before that was fashionable. His face was bed-sheet white. Blood apparently had difficulty making it to his brain. Teddy couldn't stand still. His arms were always in motion so he looked like a scarecrow falling from his perch in a stiff wind. Thought patterns were as random as his attention span and, because of this, he was fun to be with. He sat with Troop members at the school cafeteria and was fascinating to watch. He ate entire apples: core and seeds. Given a cupcake, he ate the wrapper along with the cake. He thought of the Troop as his friends. The boys thought of him as a pet and, most importantly, his condition made everyone in the Troop feel good about themselves. They didn't know he had minimal brain dysfunction. Perhaps no one knew.
Teddy lived in a 1950 wood-framed house with peeling lead-based paint both inside and outside. No one wanted to go inside. It was always dusty. His father was an alcoholic and everyone suspected his mother was on drugs she bartered for on the side streets in the city of Plainfield.
These boys were the core of Troop 186.
Others came and went, like Gary Wilton who was the poorest of the Troop. He was short and scruffy and wore the aroma of grease and gasoline. His knuckles contained dark dirt that matched his ragged fingernails and the greasy creases in his hands. He always looked like he needed a bath. It was easy to notice that his mother cut his hair since it was more bushy than trimmed. Gary wore faded hand-me-down clothes two generations old. The Troop thought they could use him since he lived in a car junkyard in Meyersville; all were eager to drive in a couple of years–perhaps in the junkyard before then. He didn't have scout clothes or gear, but it didn't matter to him.
Others didn't last for long, whether they didn't have money for dues, lacked appropriate scout clothing, or because of the cruel camaraderie of the group.
Since Gary and Teddy frequently joined meetings, the boys gave them discarded scout neckerchiefs and slides so they would feel part of the Troop. The boys felt noble at this generosity to their new pets. Others who didn't survive the Troop culture were quickly forgotten.
Mr. Calhoun was the Troop leader. Gray hair had started to stain his head. Horn-rimmed glasses always seemed to slip off his nose. His clothes were from the 'fifties. He favored bowties and suspenders and had a favorite tan fedora. He smelled of sour cologne. The boys didn't know why he was a scout master. They speculated that because he didn't have children maybe this role made up for it. Mr. Calhoun sadly knew the Troop wasn't interested in merit badges or American Indian traditions, and it was this knowledge that the boys used to their ends. Probably like the boys, he just wanted to belong to something.
Though he disappeared at times during meetings and outings for refreshment, the Troop always felt he was around even if it wasn't a Troop activity. He always carried a Fujica Automagic 35 mm camera and frequently asked the Troop to pose for a photo, either individually or in a group.
He was content to work with the Troop as long as they knew the scout oath and scout law. The Troop spouted each without thinking at meetings:
Scout Oath: On my honor, I will do my best, to do my duty, to God and my country, to obey the Scout Law, to help other people at all times, and to keep myself physically strong, mentally awake, and morally straight.
Scout Law: A scout is trustworthy, loyal, helpful, friendly, courteous, kind, obedient, cheerful, thrifty, brave, clean, and reverent.
***
Arbitrary episodes that shaped his youth once again visited him and held him down as scenes of those Boy Scout days past began playing again. These indiscriminate memories once again poisoned his soul.
The Troop participated in many activities.
One summer, the Episcopal Church had a fair that consisted of home-baked goods and lemonade stands, flea market items, games for children, swirl and clown face painting, a penny toss into muffin pans, water sponge throw, and many other tame activities. The intent was not only to involve the community, but raise a little money as well.
The Troop was low on cash and needed supplies such as garbage cans and camping equipment. Mr. Calhoun encouraged the Troop to come up with an idea for the fair.
Gary volunteered a junker–a car that no amount of repair could place back on the road.
"We could have a car smash!" Blank faces told him the boys didn't know what he was talking about. "We take out all the glass and charge fifty cents to smash any part of the car with a sledge hammer. My pop will tow it over to the fair and then on to a scrap yard."
Destruction, pounding, and metal crunching–this appealed to the entire Troop.
The boys brought up the idea with Mr. Calhoun.
"I don't know boys." Mr. Calhoun emphasized his concern by rubbing the back of his neck. "It's rather violent. I don't know if the church would allow it."
The boys were ready for this. Steve explained that this was an opportunity to start earning the automotive maintenance merit badge. He was hoping he wouldn't have to concentrate on the destruction part.
"Oh, okay. I'll talk with Father Robert."
The merit badge ruse worked again.
Father Robert was reluctant at first, but because the Troop was a part of the church he agreed, as long as everything was cleaned up.
The following Saturday morning, Kenny, Clancy, Peter, Paul, Steve, and Teddy walked, bicycled, or were dropped off at Gary's small decaying white stucco ranch house. The boys waited outside, kicking the white washed tire rims lining the house front that tried to be planters and picking weeds that should have been grass. The metal on the rims had been cut and bent in an attempt to form crude flowers. Dandelions grew in the center of the rims and throughout the front yard. The lawn was unkempt and hid many small rusting car parts.
Like Clancy, Gary never invited anyone in, but Steve had been in Gary's house once. One day he'd knocked on the door to see if Gary wanted to go to the pond to torture frogs. Gary's mother answered and told Steve to come in while she called for Gary. Stark and stained walls accented the barrenness of the living room. Mustiness permeated the air. An uneven floor was polished dark brown. Steve looked closer at what kind of wood planking would do this only to discover that it was hard-packed dirt, shiny from foot ware.
While Steve's family didn't have much money, they at least had real floors. He was both shocked and pleased to learn that someone in the neighborhood was worse off than him.
Gary came rushing out of a room and quickly ushered Steve outside. Steve could see the embarrassment in his face. Steve wanted to ask a lot of questions: "Are all your floors dirt?" "Do you wipe your feet before entering?" "Do you wipe food off if you drop it?" "Do you get worms?" "Do you grow vegetables inside?"
Gary was silent. Steve told him about the day's planned activity and Gary nodded. Both walked to the pond. Gary was particularly aggressive in slicing and squashing frogs that day.
Steve wondered if Clancy had dirt floors as well, since no one had ever entered his house.
The junkyard was sprawled amidst trees in back of Gary's house. Rows and rows of cars some piled on others–canyons of metal waste. A smell of gas, oil, and grease welcomed them. Accesses were paths big enough to drive a car through the maze of wrecks. For adolescent boys, this was the place! Gary led the way.
"Which car?" Kenny asked.
"Over here, under that walnut tree–a 1947 Plymouth. The motor's out, the interior is gone, and best of all, the gas tank has been removed."
And there it was: a rusted light-green two-door beauty. Strips of chrome still ran along the bulging front fenders. A full outside visor shielded the front window that looked over a long, sleek, domed hood. The back gently sloped down, meeting two rear fenders. Almost flat dirty white sidewall tires accented the smooth configuration of the entire car. Walnut pods left dents on the roof as they fell and a thick layer of dust coated everything. All the same it looked as if it was speeding while remaining still.
Gary had a toolbox and, under his direction, the Troop began to remove all lights and windows. He started to show us how to remove the gasket around the rear window. Kenny moved to the windshield to work on it. Peter and Paul began to tear the door panels off to remove the side windows. Steve tackled the headlights.
Clancy was sitting on a tractor tire, winded from the walk.
While the boys worked, Teddy wandered off, unnoticed.
Little progress was made after a half hour in the summer sun. Steve had the headlights off and was removing a taillight when Gary became exasperated.
"Shit, this isn't getting anywhere."
All marveled at his language use.
"Let's do it the easy way."
He looked around and found a cylinder head in a pile of parts. He heaved it at the back windshield. The tempered glass cracked as the cylinder bounced off, but remained in place.
"God damn it!" Gary retrieved the engine part and, closer to the Plymouth, threw it with both hands. The entire glass fractured into small, granular fragments.
A search began to find something to throw: a large spring, a brake drum, a timing chain, and a jack. The boys attacked the car with abandonment. Kenny threw the jack at the front windshield. Steve aimed the brake drum at the right side window. Paul pounded the left with the spring. Peter whipped the chain at the one tail light Steve hadn't removed. Clancy watched, entertained, while digging in his pocket for melted candy.
Finally the glass was gone, scattered in or around the car.
"That should to it." Gary stepped back to look at the work completed. "Nice."
"Should we clean up the glass?" Steve asked.
"No, not necessary. They ain't sharp."
"All right then, it's ready for the fair next Saturday. Let's head back."
The boys marched back up the dirt path satisfied with their accomplishment and looking forward to the weekend.
Clancy brought up the rear. Looking at the Troop in front, he realized that Teddy was absent. "Hey, anyone seen Teddy?" he called between breaths.
The group stopped and looked around as if Teddy was hiding nearby.
"We need to have that boy on a leash! Let's fan out and find him," Kenny commanded.
The troop started to take different paths into the depths of the yard when a car came barreling toward the boys.
Erratically approaching from a side path was a 1960 Ford Galaxie, veering left then right, clipping parts of stacked cars sending metal scraps into the air. Teddy was driving. Kenny stood frozen in its path. Everyone else ran for cover.
"Kenny, get out of the way!" Steve hollered from a tire pile.
At the last moment, Kenny dove right onto the dirt and the left bumper narrowly missed him.
"Teddy, you can't drive! You'll kill yourself!" Peter called uselessly from behind a Volkswagen Van as the red, square-shaped car careened by. "Jesus Christ!"
The other boys ran after the Ford passed and stopped short as it hit the Plymouth head on. The crushing sound ripped through the still summer air.
"God damn it," Peter yelled.
"Shit!" Steve moaned, mimicking Gary, clearly feeling worldly.
"Motherfucker!" Gary one-upped Steve. "That Galaxie had an automatic transmission. My pop was going to sell it."
Kenny walked slowly and joined in the lament.
"Crap! All our work!"
Everyone concentrated on the destroyed Plymouth ahead, oblivious to Teddy's condition. Moving past the Galaxie, all inspected the damage to their fair car. Without an engine, the front had folded like an accordion. It was terrible.
"Well I guess that does it," Paul said, surprising us all–not because he spoke, but for the meaning of it.
Clancy finally joined the group. "Nobody would want to beat up a wrecked car."
Everyone stood in silence with only the radiator of the Ford hissing.
"Oh my head," Teddy groaned. He had hit the steering wheel upon impact. He wasn't bleeding so there wasn't an urgent need to help him. Everyone stared disbelievingly at the crumbled cars. All the work and all the hopes were now bent and useless. Frustration pushed aside shock and was immediately replaced by anger.
"What did you do?" Kenny leaned in the car window and shouted at Teddy. "You almost killed me, you feeble moron!"
"I–I got behind the wheel to see what driving would be like. I stumped on a petal and turned the key and accidently moved the gearshift. I tried to brake it."
"Goddamn it, you ruined it for everyone! You can't drive! You can't do anything that takes brains!" Kenny raged at him.
"You probably used the gas pedal, idiot! What a retard!" Gary was mad at the damage and fearful of telling his father. He moved from right to left, inspecting the Galaxie, desperately hoping to find something redeeming. His face turned red and spit spewed with each invective. "What a complete moron!" He moved to the car window. "You feeble-minded shit-head! You'll pay for this!"
"Hey, no need to call names." Peter defended the Troop to this "outsider." It was okay for the Troop to razz each other, but not someone not really a part of the core group.
"Yeah, well it's not your cars!"
Kenny stepped forward. "He didn't mean it, he's just dumb."
"Doesn't matter if he meant or not, it's done. He's queer and should be locked up for everyone's safety. What a spaz!"
"Come on boys, let's get out of here." Steve turned around and walked off, feeling the Troop behind him. It was a good feeling.
Gary was left behind. It was obvious that he wasn't a part of the Troop now. Only when the boys reached the house did they realize that Teddy was left behind. It had been such a dramatic walk out that no one wanted to go back and get Teddy, so everyone waited by the road till he stumbled out of the junkyard, cradling his mid-section. His left eye was black and the back of his head was bleeding.
"What happened?" Clancy asked.
"Nothing." Teddy sounded ashamed of being beat up.
"Did Gary do this?"
"No, I hurt myself in the crash."
"Jesus Christ! Why didn't you fight back?" Kenny yelled facing Teddy. "What's' the matter with you? I'm tired of your stupidity!"
"But you weren't bleeding then," Steve replied.
"Leave me alone, just like you did before." Teddy's statement didn't register with the boys.
Peter and Paul hopped on their bicycles and headed home. Steve, Kenny, Clancy, and Teddy walked to Steve's house to telephone for a ride. Steve's mom used iodine and Band-Aid plastic strips on Teddy. She accepted a story of falling over a car part into a wall of wrecks and, with Steve, drove Teddy home. The car ride was silent.
The Troop didn't tell Mr. Calhoun what happened only that a suitable car to smash couldn't be found.
The boys fell back on the tried and true bake sale.
The Troop mothers made cookies, cupcakes, and pies and sold $34.95 worth of baked goods and the boys ate as much. Teddy, to everyone's amusement, ate four cupcakes, wrappers included. There was just enough money to buy two shiny garbage cans, a pot, and a pan.
Kenny wasn't visibly mad at Teddy anymore, but kept his distance and, when he could, threw barbs and taunts at him. It made Kenny feel good.
Gary was absent at school for a while with a broken arm. His father didn't take the Galaxie news well.
© 2015 by R. James Milos