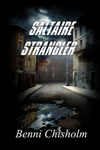 BY: BENNI CHISHOLM
Everyone's favorite amateur sleuth, Philomela Nightingale, and her husband, Brent Lark, plan to move to the seaside town of Saltaire. Realtors show them many houses, trying to find one that suits their tastes, needs, and budget. Occasionally, Philomela works in her sister's ladies' wear shop, and Procne appreciates the help, especially after two of her acquaintances are found strangled. Brent does his utmost to keep Philomela from prying into the two murders, but when work requires him to go to Saskatchewan, she becomes entangled in saving the life of a potential third victim. Will she succeed or will she become a victim herself?

TAYLOR JONES SAYS: In Saltaire Strangler by Benni Chisholm, Philomela Nightingale and her husband have moved to the quaint Canadian seaside village of Saltaire. No sooner do they get there and find a house to buy when their realtor is murdered. Philomela's husband tries to keep her from getting involved in the investigation, but when work takes him out of town, Philomela plunges headfirst into trying to find the killer. But she may find more than she bargained for…
Written in Chisholm's unique and refreshing voice, the story is fast paced, suspenseful, and full of surprises. A great read.
REAGAN MURPHY SAYS: Saltarie Strangler by Benni Chisholm is the third book in her Philomela Nightingale Mystery series. This time, Philomela has sold her magazine business and she and her husband have moved to the small town of Saltaire in Canada. The seaside community is close knit and fairly quiet—until someone starts strangling women. When the realtor who sold Philomela and her husband, Brent, their new house is murdered, Brent is adamant that Philomela not interfere in the investigation. And she agrees, until he is called out of town. Then all bets are off, and Philomela finds herself fearing for her own life, as well as that of her family and friends.
Saltaire Strangler, like the two books before it, is a well-written, fast-paced mystery with a cast of delightful and interesting characters, a solid plot, and plenty of twists and turns. I couldn't put it down.
CHAPTER 1
Wednesday Morning
Philomela Nightingale was annoyed. Glancing at her husband's clenched jaw, she knew he was experiencing a stronger emotion—exasperation. For thirty minutes they had waited patiently. Then, not so patiently, they had waited for another fifteen minutes. After forty-five minutes their initial house-hunting enthusiasm dropped from ten to zero.
Philomela rapped her knuckles on the locked front door of the house—for the fourth time. For the fourth time no one answered. For the second time, she strode to the back of the house and banged her fist on the locked door. For the second time no one responded.
She returned to the front of the house, peered through a large window at two attractive sofas, one coffee table, and two end tables. On the floor of an archway she noted a woman's black shoe. It crossed her mind that the owner must be careless and untidy.
Her stomach grumbled and she glanced at her wristwatch—eleven-fifty-five. Their meeting had been scheduled to start fifty-five minutes ago.
Brent harrumphed and she watched him march down the curving front path, stride across the public sidewalk to the curb, and climb behind the steering wheel of his one-ton Chevrolet truck. Her low-heeled walking shoes slowly followed his footsteps then veered to the passenger side of the vehicle. She climbed inside and sat down beside him.
For five minutes they sat and said nothing.
Then, like champagne from a newly uncorked bottle, Brent's exasperation erupted into full anger. "If that bloody realtor doesn't want to show us this house, I'm outa here." He snapped the ignition key and the engine spurted to life.
Suppressing her own annoyance, Philomela tried to lighten the mood. "Kathy may have been caught in heavy traffic."
"Heavy traffic in Saltaire?" Brent snorted. "Her license should be rescinded."
Philomela inhaled deeply and wondered why Kathy Holmes was forfeiting a chance to show a nice house to serious buyers. Slowly exhaling, she recalled yesterday afternoon when Kathy had shown them pictures of several attractive houses, pleasantly served them tea, and efficiently made an appointment for this morning's showing.
So, why did she fail to appear? Worse, why didn't she phone with an excuse for her absence?
CHAPTER 2
Wednesday Afternoon.
Philomela wondered about her own motives for house hunting. Did she have a chaotic desire to go through the hassle of moving? No. Would leaving her Calgary home and magazine job be a reasonable change? Not necessarily. Did she want to own a house and live in the town of Saltaire? Yes, because its temperate climate would be pleasant for retirees and also because her kid sister lived here.
Brent's foot pressed the accelerator and the truck sped forward. As it moved toward the Seaside Motel, Philomela tightened her lips and watched for police. All they needed to complete their morning angst was to get a speeding ticket.
Fortunately, it didn't happen.
Inside the motel room, she plopped onto a straight back chair and watched her husband's fingers jab the phone number of Trust Realty.
"I'd like to speak with Kathy Holmes." Much to her surprise, he spoke politely. A moment later his brows furrowed, and his voice matched his expression. "Annette, Kathy was supposed to meet us at eleven this morning. We waited over an hour." He listened briefly then, almost rudely, said, "If she's one of the best realtors in town, why didn't she phone to apologize for her no-show?" He again listened, his lips pursed, and he muttered, "Okay, if he insists, put him on."
Realizing Brent no longer spoke with the person named Annette, Philomela wondered if Tom Trust, owner of the real estate company, was on the other end. Whoever it was must have been diplomatic and soothing for her husband grew slightly mollified.
He finally pressed the off button and turned to Philomela. "That was Roger Arthur Thistle, another realtor. He promised to contact Kathy and phone back."
A few minutes later Roger fulfilled the last half of his promise—he phoned back. Listening to Brent's side of the conversation, Philomela suspected the first half of Roger's promise remained unfulfilled.
Brent turned to Philomela and confirmed her suspicion. "Roger was unable to contact Kathy. She failed to answer her cellphone or her landline. He offered to help us. Do you want to go back to that house?"
"Might as well." To her own ears her voice sounded tired and dejected. Trying to be more optimistic, she said, "The exterior was nice."
"Okay Roger. We'll meet you tomorrow morning at ten-thirty…sharp." Brent shut off his phone.
A light lunch increased their blood sugars and their spirits. An afternoon nap alleviated the exhaustion that had been created by their descent from Calgary's 3500 foot altitude to Saltaire's sea level. By six p.m. they cheerfully sipped Chardonnay and prepared to watch the local news.
The TV newscaster immediately caught their attention.
"The Saltaire Police are contacting a female realtor's next of kin. Late yesterday afternoon the realtor went alone to an empty house to meet an unknown client. This afternoon another realtor found her body inside the house. Her death is considered a homicide."
"Good grief!" Philomela's fingers gripped the stem of her glass and her abdominal muscles tightened. "Could the victim be Kathy Holmes?"
"I hope not," Brent replied.
As the newscaster left the topic of murder and droned on about the weather, Philomela recalled yesterday afternoon.
After she and Brent had enjoyed tea and conversation with Kathy Holmes, they had enthusiastically made a date for this morning's viewing. Back at the motel, Philomela had read several chapters of her mystery novel while Brent drove his truck to a nearby service station. On his return he had complained that a long line-up at the gas pumps had delayed him.
Why did that unimportant incident fill her mind right now?
© 2019 by Benni Chisholm