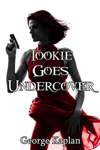 BY: GEORGE KAPLAN
Leaving her sham of a marriage after twenty years, Tookie is thrown back into the dating game. Then her new boyfriend dies of cancer, and she's desperate to keep her job, the only thing in her life that's working for her. When her Big Pharma employer announces its layoff list, she's given a choice—instead of being downsized, this experienced pharmaceutical statistician, who devours mystery novels like Jujubes, has the option of working with a secret government agency on a mysterious assignment or else searching for a new job while being unemployed. One night with Reggie, the delicious CIA agent she is to team with, makes up her mind for her. A bonus for accepting this mission is that she will get to fulfill her life-long fantasy of being a cortigiana onesta in a foreign land. But when she blows her cover, she's forced to flee, avoiding gun-wielding diplomats, Russian Mafia, and assorted thugs, in a frantic attempt to save her life…

TAYLOR JONES SAYS: In Tookie Goes Undercover by George Kaplan, Tookie is now middle-aged. Still as horny as ever, she decides her marriage is a sham. Leaving her boring husband and moving into her own apartment now that her kids are grown, Tookie is back in the dating game. Then her new boyfriend dies of cancer. Alone again and facing unemployment because her company is downsizing, Tookie is desperate to keep her job. It's all she has left. When she gets a chance to work for a secret government agency with a guaranteed job at the end of the assignment, she takes it, pretending to be a romance novelist. But she quickly learns she is playing in the big leagues. And when she blows her cover, she has to flee for her life.
Hot, sexy, and funny, the story will make you laugh, make you sigh, and make you wish you could be Tookie. A really great read.
REGAN MURPHY SAYS: Tookie Goes Undercover by George Kaplan is the story of Mary Louise, nicknamed Tookie. This is the third book in Kaplan's Tookie series, and now Tookie has just turned sixty. She has left her husband, her kids are grown, and her company is downsizing. The first new boyfriend that Tookie gets dies of cancer. Afraid of losing her job, she is desperate to stay busy and working is all she has left. When she is approached by a sexy CIA agent with an offer that seems too good to be true, she jumps at the chance. All she has to do is pretend to be a widowed romance novelist on a world tour. All the sex she wants and the guarantee of having a job at the end of the assignment is more than enough enticement. But what she doesn't know is that this mysterious assignment can put her life in danger.
Like the first two books in the series, Tookie Goes Undercover is touching, poignant, and hilarious. Well written and full of surprises, this is definitely one you don't want to miss.
Chapter 1
A Sham of a Marriage
(Tookie)
I couldn't stand living with Ollie another minute. Twenty years of this shabby excuse for a marriage had eaten my soul until there was so little of me left I feared I wouldn't survive another panic attack.
The first few bars of Born Free twinkled out of my cell phone, interrupting my reverie during the long drive home from work. Better take this call. It's not Ollie or the kids.
"I've got good news for you. The furnished luxury apartment you've been waiting for just came available, and I'm giving you the first shot at it," said the perpetually perky rental agent. "The former tenants moved out last night without notice."
My stomach churned. "Three bedrooms?"
"Three bedrooms, two and a half baths. You'll absolutely love it."
I felt nauseous. "I—I don't know. This is so sudden. I'll have to think about it." Moving out would mean I failed at marriage. How would the kids take it?
"Sudden?" Her tone changed abruptly to one I hadn't heard from her before. "This is the third place you've turned down in six months. I should put you on the inactive list until you're ready to commit."
Oh shit. I'd pissed her off. "Don't do that. Gimme time to think about it." If I didn't do it then, I might never get the chance again.
"I'm here till seven. The next person on the list gets it tomorrow. Good bye."
You don't have to be so mean. This is a big step for me, but her office is on the way home. It won't hurt to look.
***
Signing a lease was a lot more complicated than the last time I rented a place, two years before I married Ollie. Proud of myself for having finally taken this step, I sat in my car to settle my emotions before driving home to Metuchen. Steeled to make the break, I jingled the apartment keys in my hand before putting them in my purse. I felt as excited as I did at eighteen when my family moved away from New Jersey, and I got my first apartment. Change always brought fear, but I had a lot more going for me now—two degrees, a job paying in six digits, confidence—than when I was almost nineteen and still a virgin.
I had to come up with a plan before I got home and thought of a winner: Ollie had bonded with Maggie the marriage counselor. She could take care of him.
***
I walked into the split-level, more confident than I'd been for ages, and didn't avoid Ollie for once. Instead of retreating to the guest room I'd converted into my bedroom when the kids were in junior high, I headed straight for him.
"You're late, Tookie." He looked and sounded irritated. "Where have you—"
I didn't recognize the smell. He must have been making something new for dinner. "Tell the kids to come to the dining room. I've got something to tell all of you." I turned my back to him and headed in the opposite direction. Phew. I actually got that out without my voice cracking.
While Ollie rounded up Jere and Lara, I sat at the foot of the table and nervously fiddled with the apartment keys. The wait seemed like an hour, but it was probably no more than thirty seconds. All three came in together, wearing puzzled looks on their hungry faces.
I took a deep breath before saying, "Sit down. I've got something to tell you." I motioned to them as I lay the keys on the table. Before they could say anything, I started, "These are the keys to where I'll be living from now on. It's a three-bedroom unit with nice rooms for both of you." I looked Jere then Lara in the eye.
Ollie froze. I couldn't tell if he was more hurt or angry. He clenched his jaw the same way for either emotion.
"I'm taking the day off work to move tomorrow but am sleeping there tonight." I stood up and waved to the kids to join me before I lost confidence.
Ollie came out of his trance and pounded the table. "I went to counseling like you demanded and have done everything Maggie asked me to do. I feel like I've made progress."
I tilted my head down to look at him over the tops of my glasses. "I'm happy for you, but I have a life to live before it's gone."
Ollie stood up. His face turning red, he said, "You're not taking anything from this house except your clothes, Nookie."
Smack. I slapped him as hard as I could. "How dare you call me that in front of the kids?" I jerked back, shocked that I had actually mustered the courage to strike him.
"I'll call you anything I want. My parents gave me this place." His cheek turned a bright red.
Bullshit. "They gave us this place, so I wouldn't have to work."
He glared at me. "But you did anyway."
"I figured you'd say that, so I took a furnished unit. Okay, kids. Let's load up what you'll need for tomorrow and get going."
"Will I have to change schools, Mom?" asked my clone, except beautiful, Lara, who was in her junior year of high school.
"No, dear. I picked a place near your school so the move wouldn't inconvenience you."
"I'm staying with Dad," super-smart Jere said, looking down. "I'm hardly ever home any more so moving doesn't make sense for me right now." He was on spring break from Columbia.
His arrow pierced my heart. My first born, the child I loved more than life itself, was abandoning me.
"I'll visit you often," he said, apparently sensing my hurt, "and I'll text you even more than I do now."
"Lara, bring your things to the car—only enough for two days. I'll meet you outside." I felt my legs shake and had to get out of there before I crumbled and stayed forever. I slipped off my rings and slapped them on the table.
Ollie moved to block the doorway. "Stay and I'll work on our marriage. Go and it's over."
He didn't try to stop me when I pushed past him.
Picking outfits to wear was a daunting task for Lara. She had taken took so long deciding, I had made her lay out her next day's ensemble before going to bed each night.
To keep my courage, my clothes-horse daughter had to make her choices quickly for once.
I picked up the checkbook and bills, my clothes for the next day, and some personal items. Jere met me at my Volvo and waited for Lara while I arranged my stuff in the back seat and trunk.
"I hope this doesn't come as a shock to you, darling," I said, still reeling from Jere's decision to stay with his father.
"I'm surprised it took you so long, Mom. You've been unhappy as long as I can remember."
A tear came to my eye, and I hugged him. His not coming hurt me more than giving birth.
Lara flounced up. "I'm hungry."
She looked happy to leave, but I could hear her stomach growl. Better feed her before she gets irritable.
The tension in my muscles evaporated knowing the kids weren't upset.
She put her clothes in the car and poked around in a box I'd put in the back seat. "What's this?"
"Nothing." I feared I'd aroused her considerable curiosity with my evasion. "Get in the car." I squeezed Jere goodbye, marking the start of a new phase in our lives.
Barely out of the driveway, Lara started rooting in my box again. "Who gave you these things?"
"What things?" I couldn't let her think they meant anything to me.
She waved a sheet of paper. "These letters, and—" She slipped the star sapphire ring on her finger. "—this ring, and—" She slid my Seiko watch on her arm. "—this watch."
"They're just some old things I never got around to throwing away."
My super-sleuth daughter waved an envelope in my face. "This is from 1966. You've kept it forty years. Don't tell me these things aren't important to you." She started reading the cards and letters. "He's a terrible writer, but he had it bad for you. Who was he?"
My head ached. "Tim, my first boyfriend."
"Was he your first?" She'd never been so interested in my life before she was born.
Memories of the night I got him naked to no avail flooded my mind. "Nooo. He thought we should wait until we were married. Aren't you getting hungry?"
"Married? He must've been serious." She looked as though she thought I was lying.
"He was. He wanted me more than any other man has, but he was just too serious, and we were so young." He would have made a boring husband and I wanted adventure.
She looked away from the letter and at me. "How often do you think about him?"
"Never." Hardly ever.
Lara raised her voice in disbelief. "You erased him from your mind but saved his letters and gifts all this time. Right. Do you have a box for each old boyfriend?"
"Only Tim gave me gifts." I had to get her off this subject. "Have you decided what you want to eat?"
She gave me that self-satisfied look she had when she thought she knew something others didn't. "Did anybody else propose to you? Daddy didn't."
I stomped on the gas to get this inquisition over sooner. "Says who?"
"Grandpa. He said you and Grandma tricked Daddy into marrying you without realizing what he was doing just so they could have grandchildren and you could have your daughter. But, instead, you got Jere, your favorite."
"You're here, aren't you? Do you think I would've gone through what I did to have you if I didn't want you?"
"I'm just giving you a hard time." She sloppy-smooched me on the cheek. "You're still the best mom imaginable."
I felt a warm glow. "How 'bout we stop here and get a pizza to go?"
"Okay." She scanned the boys standing in the window.
I hoped the change of venue and concentrating on food would get her curious mind off me. As soon we placed our order, the armistice ended. "So Tim was the only one?"
"The only one to take me out for pizza?"
"The only one who wanted to marry you." She frowned at me for being evasive.
"Some probably would've married me had I wanted that."
"So, none of your relationships have worked out."
I wanted to choke her when she gave me her oh so smug look.
"It's not too late for a retroactive abortion, smart mouth."
***
The next morning, I drove Lara to school where I gave the office our new address and arranged for her to catch a different bus. Finishing that quickly, I headed for the house, feeling happier than I had any time since seeing my Lara the first time almost seventeen years before.
The talkative next-door neighbor waved at me when I got out of my car, so I rushed into the house to avoid a lengthy conversation—and explanation. Inside, I no longer had that unsettled feeling in the pit of my stomach I'd had the decade since my panic attack. It took several trips but, by the time Lara got home from school, I had everything moved to our new apartment and piled on the living room floor.
Jere brought over Chinese and helped us organize things. It was the happiest evening I'd had in years. That evening, I felt contented like I did when they were young.
***
Soon, we were in a routine with both of us rushing off weekday mornings and spending quality time together in the evenings. Two Fridays into my newfound freedom, I woke early to Lara's scurrying about the apartment. My Last-Minute Annie hadn't finished packing for her weekend trip with the ski club.
She ducked into my room, frantic. "Where're my new ski gloves?"
"In the hall closet."
She pouted. "I only found my old ones."
I got out of bed and stumbled to the closet. Reaching in the back of the top shelf and picking up what looked like a new pair, I said, "Here they are."
She frowned and crossed her arms. "No! Those are the old ones. They don't match my new outfit."
"You say black goes with everything."
"My new ones are color-coordinated."
"You're going to have to use these this one time. I'll look for your new ones this weekend."
Lara snatched them out of my hand and stomped off to her bedroom probably to repack.
I showered and ate a leisurely breakfast, having extra time since being woken so early. Lara interrupted my thoughts about how painful it would be when she would be leaving for college the year after next.
"You're not going to work looking like that, are you?"
"And what's wrong with how I look?" Her fashion sense didn't come from me or Ollie. How I wished I could splice this disagreeable attribute out of her genes.
"Your slacks and top don't go together—again." She grabbed my hand and dragged me to my bedroom closet. "See all the different colors in your slacks?"
I looked down at my then-favorite floral pants. "Yes?"
"Pick a blouse. Any blouse." She flipped through the few hangers on which my blouses hung.
Annoyed, I grabbed the first one I touched.
"That won't do." She held it against my slacks. "Do you see this color anywhere there?"
"No. Just hand me one that meets with your approval."
She did, and I wore it to work, not knowing how much it would boost my confidence.
I'd been doing statistical work for Big Pharma ever since high school, even before getting my degrees nights and weekends. I was good at my job and everyone at work recognized that. Just before quitting time, James, the boss I'd fantasized about for years, approached my cubicle. He usually called me into his office when he wanted to talk, unless he wanted something special.
"I need you to do me a big favor. Both of Shelly's major projects must be shipped this evening, and you're so familiar with the Erecta Eight study, you could get it out while she finishes KeepemUp Six. Can you help me out?"
"Sure. Lara's on a ski trip, and Jere's staying on campus." And I didn't have a date for the first weekend I was kidless in twenty years. James and I had worked together for a decade, and he hadn't hit on me, not even hinted at it. I wondered if I was ugly.
"Thanks for pulling my chestnuts out of the fire. I owe you one." He winked. "Shelly'll fill you in on the details."
James would've loved what I had in mind for his chestnuts, and fire had nothing to do with it.
The fresh PhD twenty—okay, twenty-five—years my junior stepped out from behind James. The svelte blonde's demeanor shifted quickly from terror to discomfort as James left.
"I really appreciate this, you saving my ass." Shelly showed me where she was in the process and handed me the reports she'd completed thus far.
It was pretty routine stuff for an experienced statistician like me. "I can take it from here." I smiled, knowing James was pleased with my helping out like this.
She gave me a look like she was lecturing a child to not do something stupid. "Don't wait for James to make the first move." She twisted her mouth. "He won't."
I felt my eyebrows raise. "What makes you think I'm interested in him?"
She turned and looked behind her before answering. "Everybody in the office but James knows. It's written on each and every one of your freckles." Young and cute, I'd always considered Shelly competition, but she'd always been nice to me and hadn't done anything behind my back—that I knew of. "I'd look elsewhere before you get too old. You've still got your looks, and that gorgeous red hair, but he's madly in love with his wife."
"What's she got I don't have?"
Shelly started to say something, stopped, then said, "James."
"That's for sure." I picked up her report and got to work.
Shelly dropped by my desk around nine o'clock. "I'm finished. Need any help?"
"I'm wrapping mine up, too. Go on home." I waved her off.
She stepped closer. "Want to get something to eat? I'll buy."
I almost accepted because none of the recent hires, all PhDs, had offered to lunch with me, but I didn't want to waste the opportunity for male companionship.
"Thanks. I'll take a rain check."
The instant the door closed behind her, I jumped onto the first of the three on-line dating sites I had been trolling since moving out. Damn. Let's see if MyGeneration.com has anything. No interest again. Maybe LoveFinder turned up a guy. Not even the losers want to check me out. Maybe Blake still wants to do the dirty dance with me. He called me months after I ran out of his room in Tahoe stark naked. Let's see if he's still in the book. Shit. He probably moved away.
Not wanting to wait any longer to sate my appetites, I searched the Panera site for locations along the one-hour turnpike stretch between work and my apartment. Finding one halfway in between, where I wouldn't be recognized, I tossed the finished report into the outgoing mail basket. Trotting across the parking lot, I jumped into the gold sedan Lara picked out because of its safety record and raced to dinner, hoping to find something to eat not on the menu.
© 2019 by George Kaplan