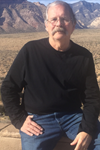 Born in Massachusetts, Edward S. Baker traveled widely as a child because his US Marine father was transferred to new assignments across the USA on a regular basis. By the time Baker was twelve, he had crossed the United States three times. And at ripe old age of sixteen, he actually drove a stick-shift Ford across the USA, following his dad, who was pulling a small camping trailer behind the family station wagon.
An English major at Elon College, Baker earned a master's degree at Appalachian State University and a doctorate in Educational Leadership at the Graduate School of the Sage Colleges. After thirty-five years in higher education, and after retiring as the interim president of a public community college, he turned his attention to his first love, writing, while continuing to teach undergraduate and graduate courses on an adjunct basis at a private college in upstate New York.
During the warm months, Baker and his wife Edna reside in their cabin on Galway Lake, New York. During the cold months, they "hole up" in their winter quarters in Saratoga Springs, New York. When he's not teaching or writing, Baker is playing with his four grandchildren or working on a long list of renovations and construction projects.
Baker saw his first UFOs as a young man while camping out at Green Lakes State Park near Syracuse, New York. He saw his second while living on the beach at Emerald Isle in North Carolina, back when it was still a wild and undeveloped stretch of dunes. His first Black Opal book, Dan Arrow and the New World Order, is based on these experiences and on current conspiracy lore, combining the UFO mystery with national and international politics and the rumored agenda of the legendary New World Order. Baker says that the Dan Arrow books are fun to write because they permit him to delve into seemingly unrelated elements that mesh together into a fabric offering many clandestine possibilities.